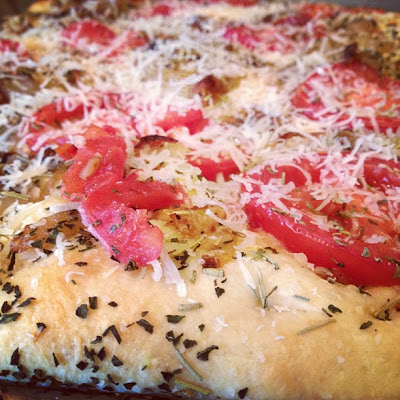 If you have not made homemade focaccia, what are you waiting for? This is such a versatile bread recipe; you can literally dress it up in a million different ways and still be amazing.

This one, above, is a basic herbed recipe, and topped with caramelized onions and garlic, Roma tomatoes and drizzled with olive oil, rosemary, and parmesan. It's outstanding to say the least!

This is perfect for pizza night, for a girlfriend brunch served along side some Arugula greens, oh heck…it's good for any ol' night!

Make this already and then come back and tell me what a hit it was with your family and friends!!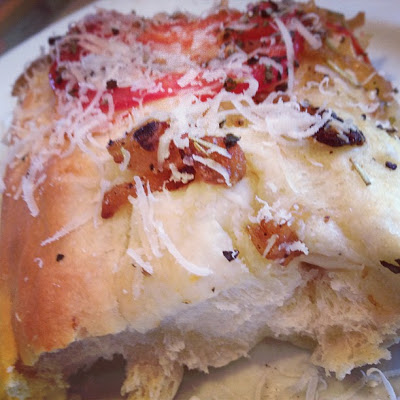 The crust is fluffy, delicate, and delicious! The richness of the caramelized onion and garlic make it outstanding!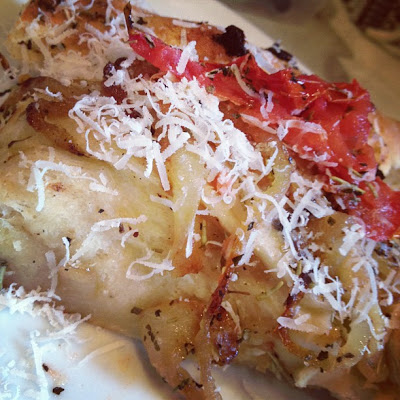 As an entree or as an appetizer…it will be a crowd pleaser!
2 packages of active dry yeast
3/4 cup evoo (extra virgin olive oil)
Dissolve the yeast and sugar in the warm water and lets stand until foamy, about 5 minutes. Add 1/2 cup of the olive oil, the flour, and the sea salt. Place the bowl on the mixer, attach the dough hook, and knead on low speed, until the dough is smooth and elastic, 5-7 minutes. Add up to 1/2 cup flour while kneading to prevent the dough from sticking. Remove the dough from the bowl.
Form the dough into a ball, transfer it to a lightly oiled bowl, and cover the bowl with plastic wrap. Let the dough rise in aware, draft-free spot until it doubles in bulk, 1-1 1/2 hours. For a more flavorful bread, make the dough up to this point, punch it down, cover the bowl with plastic wrap, and refrigerate overnight. Let the dough come to room temperature before shaping.
Pour the remaining 1/4 cup oil evenly into a half-sheet pan. Turn the dough out into the pan. Press the dough evenly into the pan. If it is too elastic to spread without springing back, let it rest for 5 minutes. Cover the pan loosely with a dry kitchen towel. Let the dough rise in a warm, draft-free spot until it doubles in size, about 1 hour.
Position a rack in th slower third of the even, and preheat to 450 degrees. Dimple the dough by pressing your fingertips all the way into it at 1-inch intervals one the entire surface. Sprinkle it with the course salt.
Bake the focaccia until golden brown, 20-30 minutes. Transfer to a wire rack and let cool in the pan. Cut it into squares and save warm or at room temperature. Store tightly wrapped in aluminum foil at room temperature for up to 1 day or freeze for up to 2 weeks. Reheat at 375 degrees for 10 minutes.
Recipe for Caramelized Onion and Tomato Pizza Recipe:
To make the caramelize onions for your pizza like the one above. Cut thinly, two large yellow onions and cook on medium-low with a little black pepper and salt in a large black iron skillet until beginning to brown and caramelize. When this happens, add two cloves minced garlic and crushed tbsp. rosemary. Let cook for about 2 more minutes. Everything should be brown, caramelized and smell heavenly!
While your dough is rising, this is a good time to get your tomatoes ready. Slice about 6 Roma tomatoes thinly and place in a small colander. Sprinkle about 2 tbsp. course salt all over the tomatoes and let sit for 15 minutes; this extracts all the juices from the tomatoes (something you don't want on your pizza). Once the 15 minutes is up, drain and rinse with water until all the salt is off the tomatoes and juices extracted.
Press these tomatoes on top your dimpled focaccia dough along with your caramelized onions for an amazing taste!
Drizzle with a little more rosemary and put in your oven for 20-30 minutes or until golden brown.
Serve with lightly dressed salad greens and your night just got amazing!
When ready to put your focaccia in oven, spread the caramelized onions, garlic and rosemary evenly on top your pizza.
**Adapted from Williams and Sonaoma's Essentials of Baking, cookbook**