I made this for some girlfriends and let me just toot my own horn, if I may, that these were a freaking hit! My gosh…just look at these!
What is so fantastic about these is that you can prepare them in advance, and simply pull out the fridge when you can smell the aroma of your coffee dripping away and your friends are antsy in their seats anxiously awaiting to see what you've prepared.
This is a winner, my friends. A winner.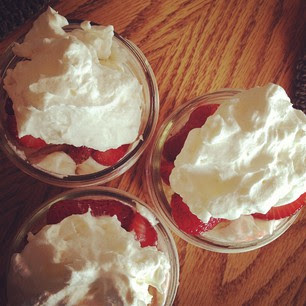 ariel view of my jarred shortcakes
ready to eat
Medium Mason Jars (makes 4-8 servings)
But instead of creating squares, I used a small round biscuit cutter and made circles and baked off as directed.
When cooled, I cut the shortcake down the center with a serrated knife and placed on half at the very bottom of the jar, topped with sweetened strawberries and then a dollop of cream, and layered it by repeating the steps.
I finished up each on with fresh whipped cream.
I made some for my girlfriends, kidoos my simply breaking up some shortcake and layering in clear plastic ups and lining up in a baking tray to keep cool until ready to present to the kids.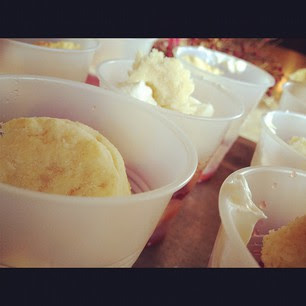 perfect size. perfect bites.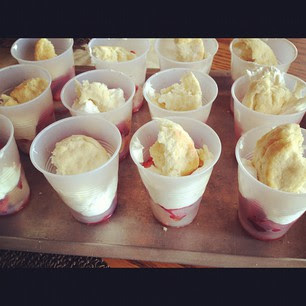 lined up and ready for small hands