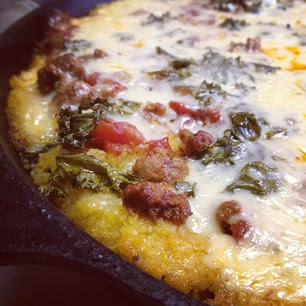 Creamy. Delicious. Amazing. And naturally gluten-free…

That's all I can say about this dish. If you haven't tried Polenta, if you haven't tried making your own chorizo, if you haven't been introducing Kale to your family…now is the time.

I've never tried polenta until now and let me tell you something, It's so good! I will cook with it often and use it as a platform for many creative dishes to come. I am in love with it.

My Sicilian mother never cooked with polenta. It's just a super star dish that can feed the whole family and everyone will love!

It's layers of creamy polenta, chorizo, kale and fontina cheese. It's a star dish. I promise you.

Try it and tell me what your family thinks…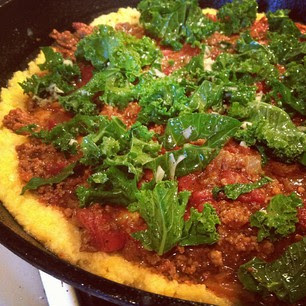 ready for the fontina cheese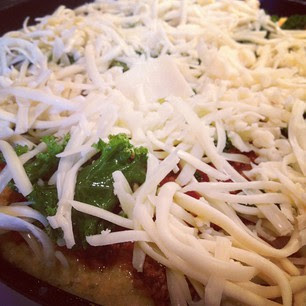 ready for the oven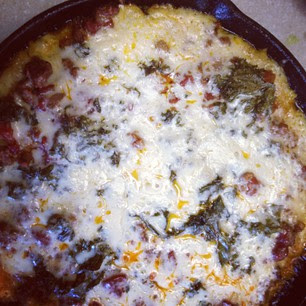 smells amazing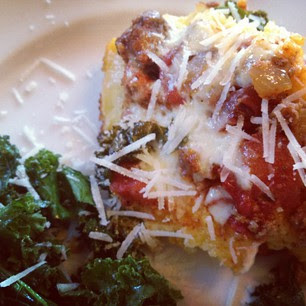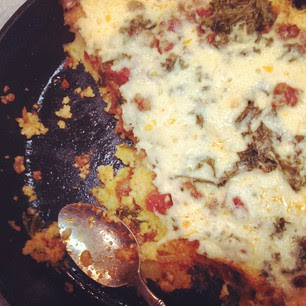 so good!
Ingredients


Polenta:
4 cups low-sodium chicken stock (or water)

1 1/4 cups quick-cooking polenta

1 1/2 teaspoons kosher salt

2 tablespoon unsalted butter, melted
Chorizo:
Olive oil

1 small onion, diced

1 pound ground pork

Kosher salt and freshly cracked black pepper

2 tablespoons paprika

1 tablespoon granulated garlic

1 tablespoon onion powder

1 teaspoon chili powder

1 teaspoon cumin

2 tablespoons red wine vinegar

4 cloves garlic, minced

One 14.5-ounce can fire-roasted diced tomatoes, such as Glen Muir
To Assemble:
1 bunch kale

1 clove garlic, minced

Extra-virgin olive oil

Kosher salt and freshly cracked black pepper

1/2 cup grated fontina cheese

1/2 cup grated mozzarella


Directions
For the polenta: Bring the chicken stock to a boil in a large pot. Add the polenta and whisk until fully incorporated, 3 to 4 minutes. Sprinkle with the salt and cook, covered, over medium heat for 5 to 6 minutes. Finish by folding in the melted butter. Keep warm while you prepare the chorizo.
For the chorizo: Coat a large saute pan with olive oil and set over medium-high heat. Add the onions and cook until almost translucent, and then add the ground pork. Brown 4 to 5 minutes while breaking the pork pieces up with the back of a wooden spoon. Add the paprika, granulated garlic, onion powder, chili powder and cumin, and sprinkle with salt and pepper. Cook 1 minute longer to toast the spices, and then add the vinegar, garlic and tomatoes. Simmer until the sauce is thickened and reduced, 8 to 10 minutes. Taste and season once more with salt and pepper. Keep warm.
For assembly: Wash, drain, take the leaves off the stem, and finely slice the chard. Heat the garlic and some olive oil in a large pan and saute, 3 to 4 minutes. Season with salt and pepper. Drain in a colander and squeeze out any excess moisture.
Preheat the oven to 350 degrees F. Lightly grease an 8-by-8-by-2-inch gratin dish or an oval 9-inch cast-iron pan. Pour half of the polenta in and spread out evenly. Top with half of the chorizo and all of the Swiss chard. Sprinkle with half of each cheese. Repeat with a layer of the remaining polenta, then the remaining chorizo, and finally the remaining cheese. Cover with foil, place the dish on a sheet tray and bake 30 minutes. Remove the foil and bake until the cheese is golden and bubbly, 15 minutes longer. Let sit 25 minutes to set up, then cut into portions and serve.