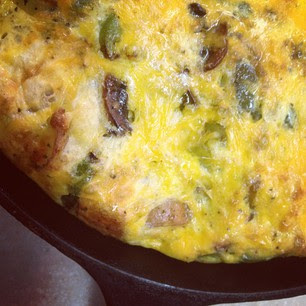 If you have not made yourself a frittata lately. Now is the time.

I have deprived myself of this delicious anytime, creation, because it is not my kids' favorite, and my husband hates eggs.

He hates eggs!

Can you believe it?

There is so much you can do with eggs and wish I could share this with my husband. But I guess it will be just me and the frittata. And I made it just for me.

I enjoyed every, single, bite. And you will, too.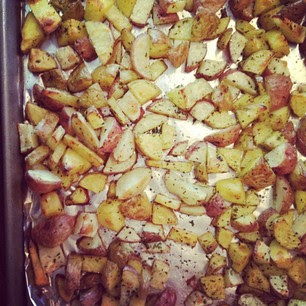 I roasted my potatoes first. Oh my. Crispy from the drizzle of olive oil and full of robust flavors from the dusting of herbs


Whisking my egg before the pour…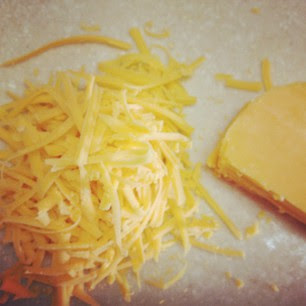 Your favorite cheese tops the frittata. Mine is cheddar. For today.



Right before it goes in the 450 degree oven for about 10 minutes. I couldn't wait!




PRINT ME

Here's the How-to…
Ingredients:

2 Italian sausages, casings removed
2 bell peppers, diced
Handful of mushrooms. Cleaned and sliced
10-15 Baby Yukon and red potatoes. Diced and roasted

8-12 eggs. Scrambled and seasoned with salt and pepper

Large Black Iron Skillet or other large oven proof pan.

Directions:

Roast your potatoes. Dice and place on cookie sheet. Drizzle with olive oil, salt and pepper, a dusting of dried parsley, basil and thyme. Roast in a preheated 450 degree oven for 20 minutes or until nicely browned and crispy.

Meanwhile, in your skillet, heat a drizzle of olive oil in your pan and cook your Italian sausage breaking it up with a wooden spoon, browned and no longer pink.

Take out of pan with a slotted spoon and let rest on a plate.

Take out your potatoes and let rest until assembly. Keep oven on at 450 degrees.

Cook your mushrooms and bell peppers until soft and browned. Adding more oil if needed. Take out of pan and set on plate until ready to pull all together.

Grate your cheese of choice. About a cup of cheddar (or more if you love cheese like me).

Crack your eggs in a bowl, whisk, add a pinch of salt and pepper, whisking again.

Now you're ready to assemble.

Clean your skillet and spray with cooking spray.

Everyone in the pool! The sausage, mushrooms, bell pepper, and potatoes. Spreading everyone around evenly. Pour your whisked egg over it and then top with your cheese.

Pop in your oven for about 15 minutes or until golden brown and set in the middle.

Ciao!









**This makes for a snack anytime of day and tastes wonderful at room temperature. You can also freeze leftovers in a freezer bag and freeze to preserve for a quick breakfast for quick busy mornings! Just take out of the freezer the night before and let thaw in the refrigerator.**