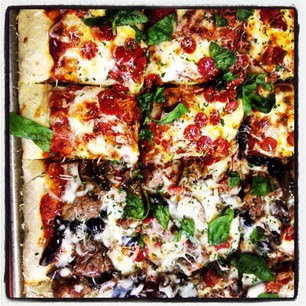 Baking Day wonder #3…Pizza Focaccia
Focaccia pizza is so amazing because it's just so flavorful! It's soft, fluffy, and bursting with flavor. I simply love it! And it's so versatile, too. You can put anything on this flat bread or simply leave it as is with just a sprinkling of salt and fresh basil.
On my baking day this last weekend I was in the mood for focaccia, so I made two batches of it. One for a pizza, another to cube, toast, and make into a panzanella. Delish! (Recipe coming soon.)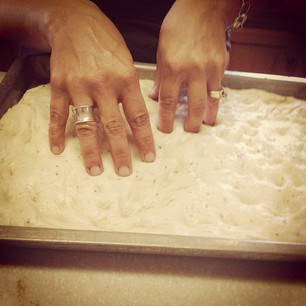 me dimpling the dough before drizzling with olive oil and sprinkling with course salt…yummy
Follow my directions for my basic focaccia dough, here. I bake at a 400 degree oven until just lightly toasted (about 15 minutes), layer on my pizza toppings and bake-off for about 10-15 minutes more.
Here I made half pepperoni, half supreme, with mushrooms, Italian sausage, black olive, onion and green bell pepper. Topped with fresh basil leaves. YUMMY!
I love the little pepperoni. It's so cute!
I also recommend my pizza sauce I use every time I make my pizza. I double it and it keeps for a week in the fridge. It's amazing!
This is a winner baking day recipe. Make it. Eat it. Freeze it. Top it with anything you like…focaccia is wonderful!
Make this on your baking day.
Enjoy