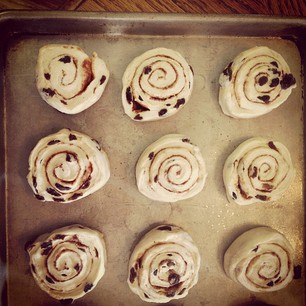 Baking Day wonder #2 Raisin Cinnamon Rolls
My white bread recipe, that I've been baking since I was only fourteen years-old, is so delicious and easy. I bake four loaves every week. Sometimes I shape into loaves, sometimes I just go wild and bake-off various baked goodies with the same dough.
For instance. I've made the most, moist cinnamon rolls on the market, I've made cinnamon swirl bread, I've braided it, drizzled with icing and put holiday sprinkles on it and gave as gifts, and I've even imitated a french loaf by shaping it into one to use for my bruschetta obsession.
And here are my raisin cinnamon rolls.
Perfect for busy mornings.
Perfect for lazy mornings.
Perfect for anytime of day.
I didn't glaze these. I just kept them deliciously rustic, pop in the microwave for a couple seconds in the morning with a pat of butter with my coffee. Yum! But you certainly could glaze them to push them over the top. Just a little powdered sugar and milk ought to do the trick for your glaze.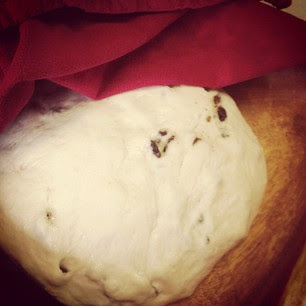 here's my baby, rising away…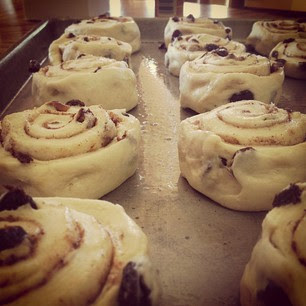 Your family will love these. Bake these up on your next baking day. Each batch makes 2 loaves. So usually I bake-up 2 quick batches and make white loaves for the two and then make cinnamon rolls and a shaped loaf for my bruschetta for during the week or to use as garlic bread for a dinner. But the options are a plenty and you can mix it up any ol' way you like!
Here is my white bread recipe, here.
To make the cinnamon rolls, add the raisins toward the end with the last round of flour. I use 2 cups per batch (2 loaves) if I'm splitting the batch, I just take the dough out of my mixer, cut into two equal parts. Cover one and let rest in an oiled bowl and put the raisin dough back into the mixer to incorporate the raisins and only add 1 cup.
Take out of mixer and place in an oiled bowl and cover with tea towel. Let rise until doubled, about an hour. Punch dough down and knead back into a ball and let rest again for about a half hour.
To make the cinnamon rolls: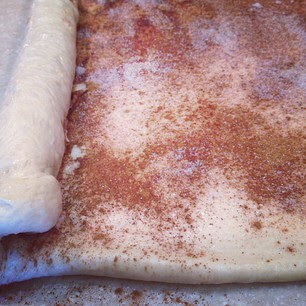 Punch down the raisin dough and lay on flat service to roll out into a rectangle. Brush entire dough surface with melted butter and sprinkle with cinnamon and sugar.
Starting at long end, slowly roll up and tightly the dough until you reach the end, pinching the ends of the dough together to seal.
Spray a large baking sheet and have ready.
Using a serrated knife, cut 1-inch, cuts and place down onto the baking sheet. Continue to cut until gone. Cover with towel and let rise for 30 minutes.
Bake in a 350 degree oven for 20 minutes or until lightly browned. DO NOT OVER BAKE!
Drizzle with icing or just eat with a little pat of butter. Either way…this recipe is a winner and perfect for anytime of day. I love to freeze these so I always have something on hand (especially for my kids' sleepovers!).
Enjoy!