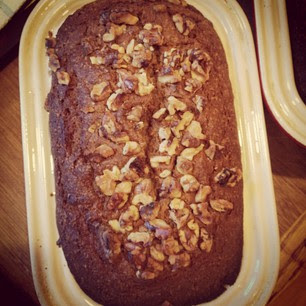 Baking Day Wonder #1: Vegan Pumpkin Bread
My baking day always pays off. Always. I have my fresh baked items frozen for later, on the counter for busy mornings, and in the fridge to stay fresh to accompany my dinners to round them out.

And all because I planned one day out of my week to put on my apron and to get serious.

You're going to want to start off baking this pumpkin bread for your week. It makes 2 loaves. One loaf for freezing and one loaf for the morning rush.

Or just skip the freeze and watch it be devoured by your starving children.

Did I mention mine are always starving?

Honestly, if I really want my baked goods to stick around, I have to portion it out and freeze some, and hide plenty, until I'm ready to serve! You might want to heed my advice. I've learned the hard way.

This recipe is vegan.

It's delicious.

And it's killer!

The walnuts on top give that crunch that just lends such the perfect balance to this moist loaf.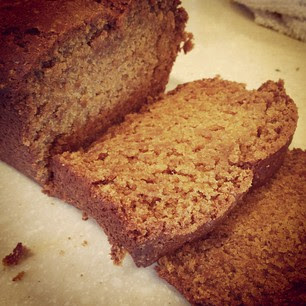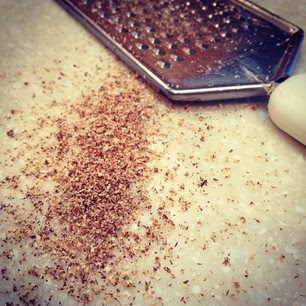 fresh nutmeg always does the job so well…

PRINT ME
Ingredients:


1 1/2 cups white whole wheat flour
2 cups light brown sugar, packed
1/3 cups granulated sugar
1 teaspoon freshly grated nutmeg
1 15-ounce can pumpkin puree, or just under two cups
Preheat oven to 350 degrees F. Place a rack in the center of the oven. Grease and flour two loaf pans (mine are 8x4x2) and set aside.
In a large bowl, whisk together flours, sugars, baking soda, baking powder, salt and spices.
In a medium bowl, carefully whisk together pumpkin puree, oil, maple syrup and water.
Add the wet ingredients to the dry ingredients and use a spatula to fold all of the ingredients together. Make sure to scrape the bottom of the bowl well, finding any stray flour bits to mix in. Fold in most of the chopped walnuts, reserving some to sprinkle on top of the batter once in the pan.
Divide the dough between the two greased pans and sprinkle with a few walnut pieces. ( I did one loaf with walnuts; one without, for my babes that strongly dislike them.)
Bake for 1 hour to 1 hour and 15 minutes, or until a skewer inserted in the center comes out clean. Remove from the oven. Let rest in the pans for 20 minutes, then invert onto a cooling rack.
For more on menu planning and organizing your life, check out my eBook for instant pdf download or read on your Kindle!