Is this not the most amazing looking cheesecake, ever?
Pumpkin and cheesecake is perfect for all and let me tell you…it is outrageous! I even made a homemade whipped topping and added a little cinnamon, nutmeg and clove.
Make this for Thanksgiving. Make it now.
Crust
1 1/2 cups flour
5 Tbls. unsweetened cocoa powder (not sweetened hot chocolate mix)
1/4 tsp. kosher salt
10 Tbls. butter, diced and softened
1/2 cup + 2 Tbls. confectioner's sugar
2 egg yolks
1/2 tsp. vanilla
Filling
1/4 cup flour
2 tsp. pumpkin pie spice
1 Tbls. cognac
1 15-oz. can 100% pure pumpkin (not pumpkin pie filling)
24 oz. cream cheese (that's 3 8-oz. bricks), at room temperature
1 3/4 cups dark brown sugar
4 eggs
Homemade whipped topping:
2 cups heavy whipping cream
3/4 cup sugar
Whip in your mixer with a whisk until fully whipped. Add you sugar to the cream when almost finished. You'll know it's done when it forms soft peaks. Taste. If you think it needs a little more sugar, add to taste.
Don't over beat or it will turn to butter!
Makes 1 9-inch cheesecake
For the crust:
Preheat your oven to 350 degrees. Lightly grease a 9-inch spring form pan with butter or oil and set it aside.
Put the powdered sugar and butter in the bowl of your stand mixer (or in a large bowl if you're mixing by hand). And beat until combined. Add the eggs and vanilla.
Add the flour, cocoa and salt. Mix until combined. It will turn out thick and playdoh like.
Turn onto the springform pan and prick with a fork for air to escape.
Put into your preheated oven for about 15-20 minutes until baked.
**Under baking it is ideal from what I've found. I've even not baked crusts at all and love it. You know how crusts can be hard in a cheesecake? If you bake the crust right along with the cheesecake batter your crust will be beautiful!
But I'll let you choose on
what you'd like to do.**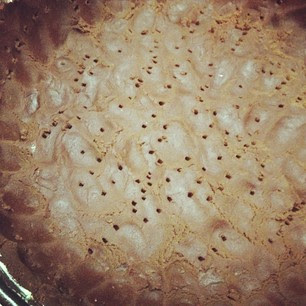 Once baked (or not) and cooled, add your cheesecake filling.
Turn your oven down to 325 degrees. VERY IMPORTANT!
Combine your cream cheese and mix until all broken up. Add your brown sugar and mix. Once combined add your eggs; your mixture will be soupy like. Add your pumpkin, mix and then add your dry ingredients. Mix until all combined, scraping the sides and mixing until all incorporated.
Pour into your springform pan and bake for one hour or until the center of the cake cracks a little and slightly jiggles.
That's okay if it cracks. You are going to top it off with a homemade spiced whipped cream topping and walnuts!!
Once cheesecake is baked, leave in your oven for 30 minutes with your oven cracked open just a little.
Take out and finish by resting and chilling in your fridge until the next day. Oh, how perfect your cheesecake will be!
When almost ready to serve, pile high your whipped cream and spread. Sprinkle with chopped walnuts or pecans. Chill until ready to serve.
AMAZING fall dessert. Have fun being the best hostess in the world with this killer dessert!!
**Adapted from: The Hungry Mouse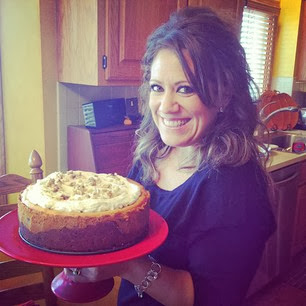 Yeah, I'm a super star…