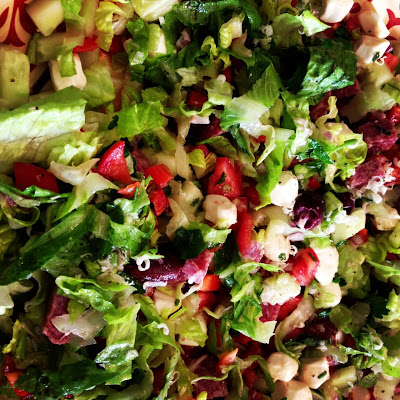 Italian never tasted so good my friends.

Mozzarella, salami, roasted bell pepper, olives, tomato, green bell pepper, cucumber, all on a bed of greens. oh. my. gosh. This salad is so good!

I love salad so much. My husband always shakes his head in disbelief when all I ever order at restaurants is a salad. Not just any salad, an amazing salad with all sorts of different toppings and ingredients. Grilled chicken, flavorful blue cheese, hard boiled eggs…you name it, I will love it!

The wonderful thing about salads is that the lettuce is essentially a wonderful platform for all sorts of creative toppings.

My favorite?

Hands down the Cobb salad. It's so delicious. But this Italian chopped salad, I give a close second. Top the greens and assorted veggies with a homemade red wine vinaigrette and you've got heaven on a plate.

I display my Italian chopped salad in a trifle bowl. Gorgeous.

If taking to a party or potluck, simply bring in your trifle bowl, keep your dressing in a mason jar to shake and dress when you arrive. Perfect.

Serve with these amazing warm, homemade parker house rolls.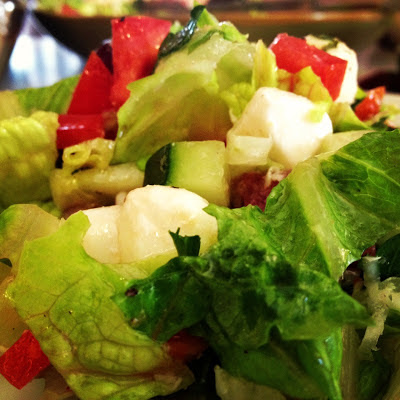 Ingredients:

4 romaine hearts, halved and chopped into small dice
2 Roma tomatoes, seeded and chopped into small dice
1 green bell pepper, seeded and chopped into small dice
1/2 red onion, chopped into small dice
1/3 cup kalmata olives, pitted and chopped into small dice
4 onces Italian dry salami, chopped into small dice
1 tbsp. fresh basil, chopped fine
1 tbsp fresh parsley, chopped fine
A couple jarred roasted bell peppers, diced

Combine all ingredients in a large bowl and set aside in fridge until ready to serve and preparing the dressing.

Herbed Red Wine vinaigrette

1/4 cup plus 2 tbsp red wine vinegar
2 garlic cloves, pressed through a garlic press
1/4 tsp Dijon mustard
1/2 tsp. salt
pinch each of basil, oregano, and thyme
1/4 tsp. sugar
1/4 cup plus 2 tbsp. olive oil

I add all my ingredients in a mason jar, screw on lid and shake.

Pour over salad and toss adding salt and pepper if needed.

Enjoy!