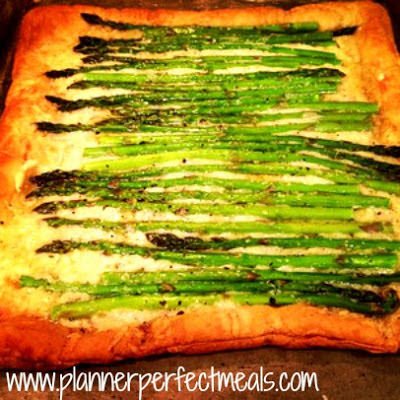 This is so good! A light and flaky crust, delicious gruyere and roasted, seasoned asparagus. The perfect food.

This is perfect served as an appetizer, alongside lemon and thyme roasted chicken, or would make a perfect, Easter brunch debut.

Easy. Simple. Delicious.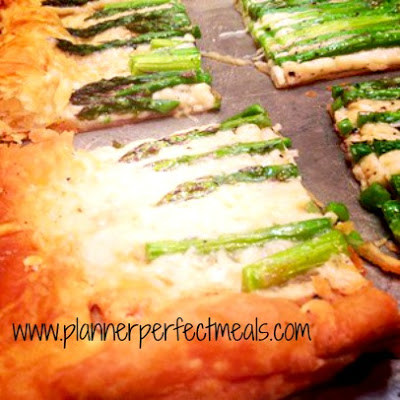 Adapted from Martha Stewart

PRINT ME
Ingredients:

1 puff pastry sheet
2 cups grated gruyere cheese
1 1/2 pounds medium to thick asparagus, ends cut off
olive oil
salt and pepper


Directions:
Preheat oven to 400 degrees. On a floured surface, roll the puff pastry into a 16-by-10-inch rectangle. Trim uneven edges. Place pastry on a baking sheet. With a sharp knife, lightly score pastry dough 1 inch in from the edges to mark a rectangle. Using a fork, pierce dough inside the markings at 1/2-inch intervals. Bake until golden, about 15 minutes.

Remove pastry shell from oven, and sprinkle with Gruyere. Trim the bottoms of the asparagus spears to fit crosswise inside the tart shell; arrange in a single layer over Gruyere, alternating ends and tips. Brush with oil, and season with salt and pepper. Bake until spears are tender, 20 to 25 minutes.