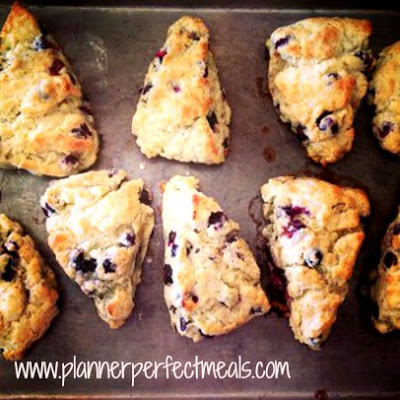 Okay, simply put, these are amazing! A cross between a biscuit and a muffin, they are moist, flaky, delicious and the lemon glaze on top takes it to a whole other level!

Of course these go well with tea, but I love pairing it with a nice french roast cup of coffee. Mmmm…

Serving this with girlfriends is a splendid idea and/or this beautiful treat would also make a perfect Mother's Day breakfast or Easter brunch, debut.

However and whenever you make and indulge in this sophisticated delight, it will be the perfect moment.

Enjoy!

Adapted from Tyler Florence from the Food Network

PRINT ME
Ingredients:

2 cups all-purpose flour
1 Tbsp. baking powder
1/2 tsp. salt
2 tbsp. sugar
5 tbsp. cold butter cut into small slices
1 cup fresh blueberries
1 cup heavy cream, and more for brushing the tops before baking

Lemon Glaze:

1/2 cup freshly squeezed lemon juice
2 cups powdered sugar
1 tbsp unsalted butter
1 lemon zested

Directions:

Preheat oven to 400 degrees

Sift the dry ingredients together, the flour, baking powder, salt and sugar. Add the butter pieces and using a pastry blender or fork work the flour and butter until you get course crumbs.

Add the blueberries and using your clean hands, lightly and carefully sift the blueberries through the flour to coat them. Slowly add the cream and using your hands or a spatula, slowly incorporate the cream and crumb/blueberry mixture until it forms a ball. Be careful here as you can burst the blueberries.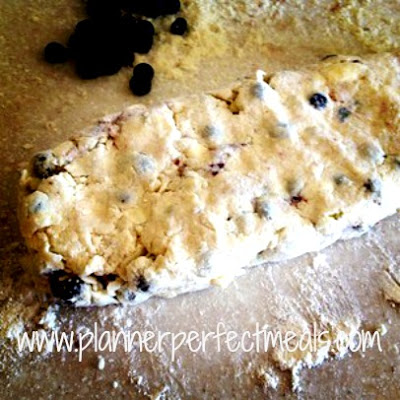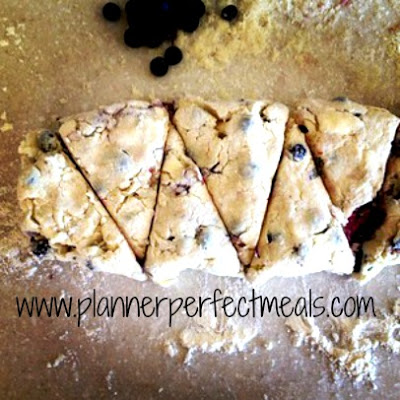 Place on a floured work surface and roll into a thick log. Then lightly press down until you've got it about 2 inches thick.

Cut into triangles, place on an ungreased cookie sheet and brush the tops with cream. Place in the oven until lightly browned. About 15-20 minutes. Let the scones cool a bit before you apply the glaze.

For the glaze:
mix the lemon juice and powdered sugar and whisk until the powdered sugar is dissolved. Whisk in the lemon zest and butter and nuk in the microwave for 30 seconds until no lumps and smooth. Drizzle over your scones.

Enjoy!