"Boys! Time for breakfast!"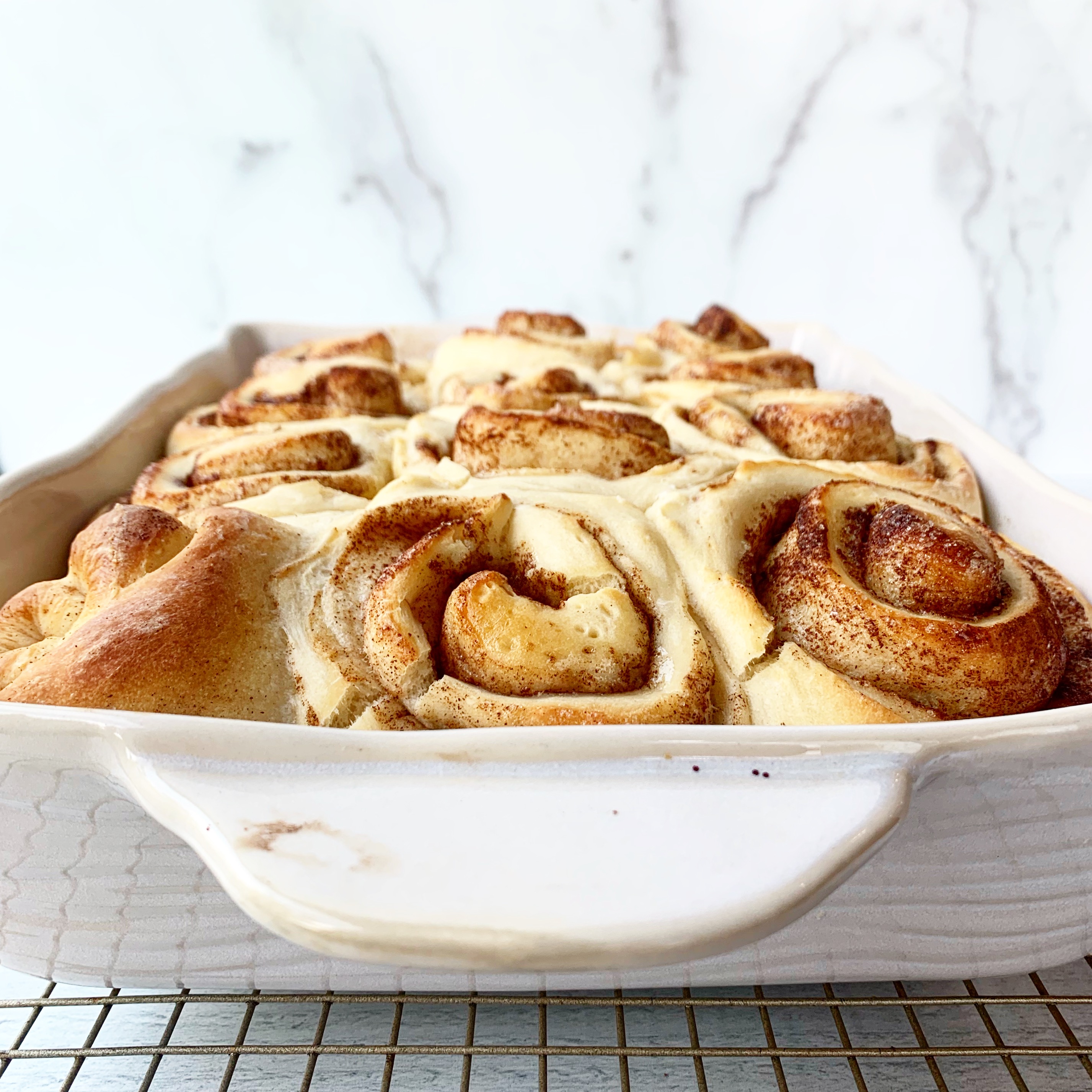 Before the icing drizzle
These are the most amazing cinnamon rolls on the planet! They are made conveniently with my favorite, white bread recipe. On my baking day when I'm baking-up my routine, 4 loaves of bread, I always use some of the bread dough to make some cinnamon rolls! Heck yes…they are so good. You can even bake and freeze into snack-size portions for your family for a quick, delicious homemade breakfast, anytime.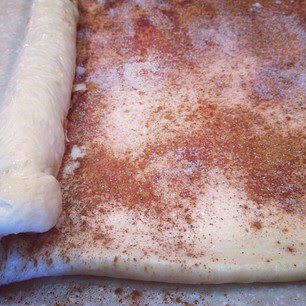 The bread recipe makes 2 loaves.
Using the whole 2-loaf bread dough will make a full baking sheet of cinnamon rolls, or you can split the bread dough evenly in half to make one loaf of bread and a half-sheet of cinnamon rolls. Perfection! 


printable recipe

I've been making this bread since I was fourteen-years-old.

Makes two loaves of white bread.

Combine in mixer:
3 cups warm water
2 pkg. Of yeast
2 tbsp. Honey or sugar

Let your yeast dissolve and proof in your mixer, about 5 minutes.
While waiting, in large bowl combine:

7 cups of flour
¾ cup of dry milk
Combine in mixer bowl on medium speed for 3 minutes:
4 tsp. Salt with 3 cups of the flour mixture
When mixing is complete:
Add 2 tbsp. Vegetable oil with 3 more cups flour

Incorporate on medium speed, adding any remaining flour until it forms a soft ball. On a floured surface, place your bread dough on the counter, and using the heel of the palm of your hand, knead the dough. Turning the dough each time to form a smooth ball, adding more flour if needed. Put into a greased bowl and cover with a clean dishtowel. Let rise until doubled, about one hour. Punch down and let rise again for ½ hour.

Turn oven on to 350 degrees.

Punch down dough and lay on a floured surface and roll into a nice ball. Cut the ball in half. Use one for a loaf of bread and the other for about 2 dozen cinnamon rolls. 

For the cinnamon rolls, roll out the dough until it is about 1/4 inch thick. It should be tall and wide for rolling. Spread about 1/2 stick softened butter on the rolled dough. Sprinkle with cinnamon and sugar. Begin with the dough that is closest to you and begin rolling up making tight rolls. Take your hands and work your way to the ends to ensure you stay even with your dough until the end. Once rolled up, make sure you pinch the dough end to the roll to keep tight and sealed.
Spray a non-stick baking sheet and set aside. With a serrated knife cut the cinnamon log into 1/4 inch pieces and place on a baking sheet. I keep mine all snug in the baking sheet and let rise until risen, about 20 minutes.

Bake in the oven for 15 minutes until baked through and light, golden brown.

To make the vanilla icing:
3 cups powdered sugar
1/2 cup heavy cream
3 tbs. vanilla extract
Combine in a large bowl and whisk until thick and creamy.
When rolls come out of the oven, spread thick icing all over the rolls. Don't even wait a second…dig in!