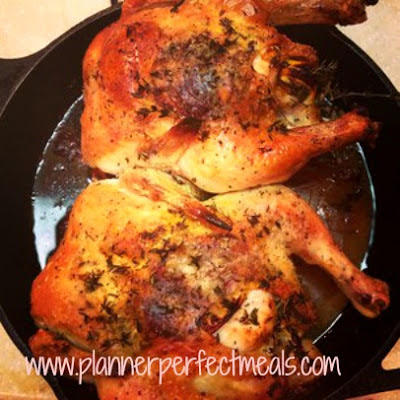 Is there anything more comforting than a roasted chicken in the oven?

Perfect for a cold winter's night. This delicious recipe has an herbed lemon butter under the skin and all over the bird. It makes for an insanely delicious, family dinner.
Perfect alongside an asparagus gruyere tart and a crisp romaine salad with buttermilk dressing.

For dessert, banana bars with browned butter icing. Can you say, DELISH!

PRINT ME
Adapted from the Pioneer Woman
Ingredients:

1 fryer chicken
3/4 cup softened butter
4-5 or more sprigs thyme
2 lemons
salt and peper to taste

Directions:

Preheat oven to 400 degrees F.

Zest 2 lemons and take the thyme off the a couple sprigs thyme.

In a bowl, combine the butter, lemon zest, and thyme, salt and pepper.

In a large cast iron skillet, lay your bird breast side-up and rub your herbed butter under the breast's skin and all over the outside. Squeeze the lemon all over the bird and stuff the cavity with cut lemons and sprigs of thyme.

Place in the oven for about an hour or until nice and golden and juices run clear. Let sit with loose foil for about 10 minutes before serving for juices to set. This makes for a juicy chicken.