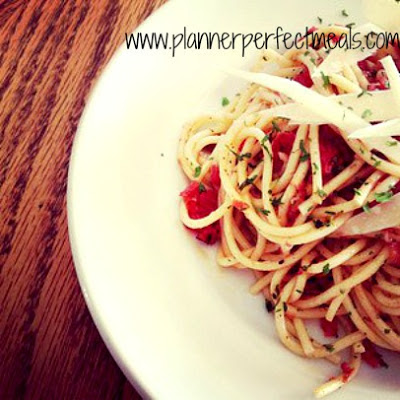 Oh mio dio! Oh my goodness, this is so delizioso and I'm not kidding. All my children loved it too. To have a 9 thumbs up at a single meal is a big deal over here, so you know it's good.

So simple. Spaghetti, olive oil, fresh roma tomatoes, minced garlic, basil and parsley with shaved parmesan to top the masterpiece.

This will be a new staple. I used dried herbs, but once summer hits, fresh basil and parsley and farmers market tomatoes will be used… delish!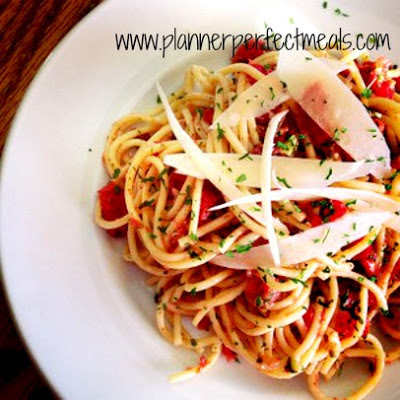 2 1/4 pounds unrefrigerated ripe tomatoes (preferably plum)

1/4 cup fresh basil leaves

1 tablespoon flat-leaf parsley

1 tablespoon chopped garlic (from 2 garlic cloves), plus more if desired

1/4 cup extra-virgin olive oil, plus more for drizzling

Coarse salt and freshly ground pepper

1 pound spaghetti or spaghettini

Grated Parmesan cheese, for serving (optional)
Directions
Finely chop tomatoes, basil, parsley, and garlic, and mix together with oil (or pulse ingredients, including oil, in a food processor to blend).

Bring a large pot of salted water to a boil. Add pasta, and cook until al dente. Drain pasta, and toss it in a serving bowl with the raw sauce. Transfer to 6 shallow bowls, and drizzle with oil. Serve with cheese.