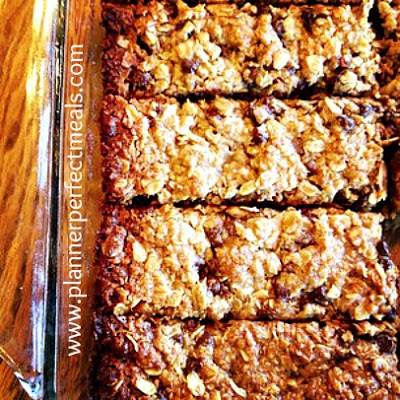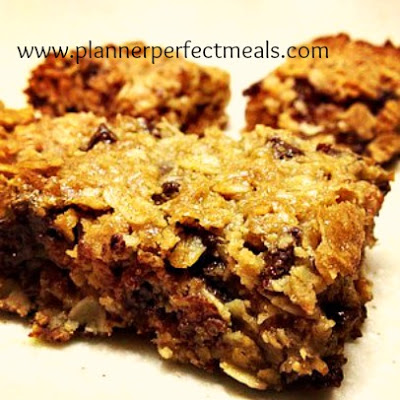 I love recreating my kids' favorite snacks because I can control the ingredients. And If I score? I'm golden.

These granola bars were a hit, made with simple, easy ingredients and absolutely delicious! I guess I am golden!!

What's so fun about making these is that you can customize your granola bars by adding all the fun ingredients you and your family love. My first batch were simply mini chocolate chips per my little ones' request and with the peanut butter that is in these bars, it made it amazing. Some other batches I want to try are:

mini m&ms
chopped pecans
dried fruit
raisins
chopped pretzels
The possibilities are endless!

These are chewy, yet firm and hold together beautifully. Wrap these individually to put in your children's lunch box, perfect for your diaper bag, your purse in case of low blood sugar of course or to just keep in your pantry for a quick, wholesome snack. These will be your new family favorite. Never will you buy any from the store; they're that easy and that tasty.

PRINT ME


2 cups oats

1/2 cup sugar

1/2 tsp. salt

1/4 tsp. cinnamon or other spices as desired (cardamom, nutmeg, etc.)

2 1/2 cups additions: dried fruits, seeds, nuts, flax meal, bran cereal, puffed rice cereal, crushed pretzels, chocolate chips

1/3 cup peanut or other nut butter

6 Tbsp. melted butter

1/4 cup honey, maple syrup, or Agave syrup

1 Tbsp. water
Preheat oven to 350F. Depending on desired thickness, line a square (8×8 or 9×9) or rectangular (9×13) baking dish with parchment paper, then lightly grease the paper with non-stick cooking spray, oil, or butter. Thicker bars are a little more decadent, if you're planning on using this as a dessert.

Process 1/3 cup of the oats in a blender or food processor until finely ground.

If necessary, chop up dried fruit and nuts. Raisin-size pieces are fine, but dried apricots, or apples, let's say – should probably be chopped.

Stir together all dry ingredients (oats, ground oats, sugar, salt, cinnamon, fruits/nuts/seeds).

Whisk together wet ingredients – oil, honey, peanut butter, and water.

Mix together the wet and dry ingredients, then spread in the pan. Press firmly into the corners and edges so the top is even.

Bake for around 30 minutes, until the top starts to brown. Thicker bars will likely take longer, so you'll need to watch them, depending on how much batter you've spread in what size pan. The edges will become deep golden and they may feel underdone in the center, but that's okay. They'll firm quite nicely as they cool.

Let cool in the pan on a cooling rack for at least 20 minutes, then take them out of the pan using the parchment. Let cool completely before cutting.