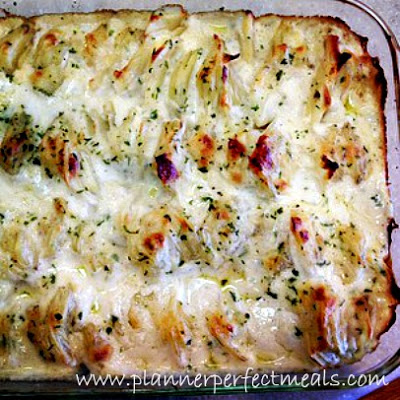 I've been on the lookout for a creamy and delicious scalloped potato recipe and with Easter right around the corner, I had no time to waste. I wanted to test some out before Easter arrived!

Ones I've tried and even made in years past are thin potatoes in a loose milky bath. Needless to say, my family and I did not like it. I was on the hunt for a good scalloped potato recipe.

I wanted it to be thick, it was important that it be creamy, and it was imperative that it was full of flavor.

This recipe I have found is de-lic-ious!!! This scalloped potato dish will win you over with not only its texture and flavor, but its simplicity!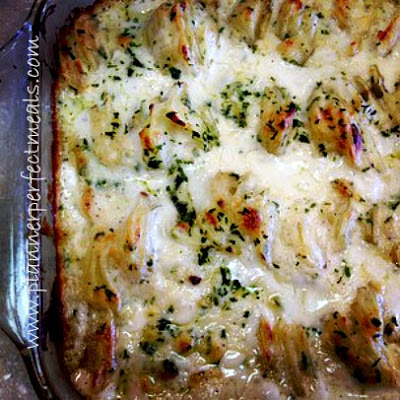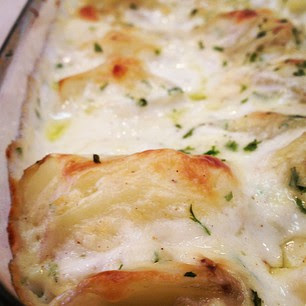 PRINT ME
Ingredients:
3 tablespoons butter

3 tablespoons all-purpose flour

2 teaspoons salt

1/4 teaspoon pepper

1/2 tsp. freshly grated nutmeg

1-2 tsp. dried parsley

3-4 fresh sprigs of thyme

3 cups milk

6 cups thin/medium sliced potatoes
Preparation:
In a large saucepan, melt butter over medium-low heat; stir in flour until smooth and bubbly. Stir in salt and pepper; nutmeg. Gradually add milk, stirring until thick and bubbly. Turn on low and let simmer for about 15 minutes.
Peel your potatoes and slice stacking upright in your greased pan making up to 3- 4 rows. Lay your sprigs of thyme within the rows of potatoes.
Pour your cream sauce over your stacked potatoes in your greased 9×13-inch baking dish, sprinkle with parsley and bake, uncovered, at 375° for 45 minutes, bubbly and golden brown.