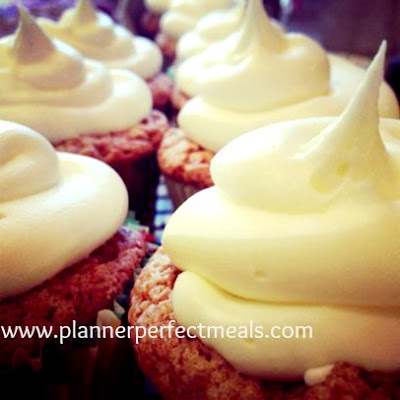 I'm compiling all my favorite recipes for Easter and carrot cake cupcakes are one of my faves! Moist and decadent full of shredded carrot, raisins and walnuts and topped with a creamy, cream cheese frosting. Mmmmm…good! These also taste amazing and just like the Morning Glory muffins without any frosting. What a great brunch item as a side to your spring salad!
**I made half of my batter without raisins and nuts for my kids because mine don't like them in their carrot cake.**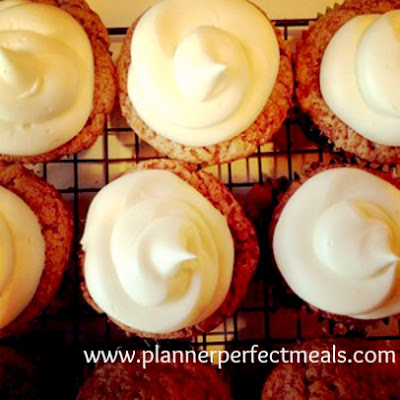 My PPM tip is to bake these up on your baking day before Easter. I made 2 dozen extra to freeze for Easter. All I'll have to do is frost! Homemade from scratch just got easy…

PRINT ME
Ingredients:

2 cups all-purpose flour
2 cups sugar
1 tsp. baking powder
1 tsp. baking soda
1 tsp. cinnamon
3 cups finely shredded carrot
1 cup cooking oil
4 eggs

Optional:
1/2 cup raisins
1/2 cup chopped walnuts or pecans

Directions:

In a bowl combine flour, sugar, baking powder, baking soda, and cinnamon. Add carrot, oil and eggs. Beat with an electric mixer till combined.
Pour into lined muffin tins, 2 greased and floured cake pans, or 9 x 13 baking dish.

For the muffins, bake in a 350 degree oven for about 14 minutes or until browned and toothpick inserted into the center comes out clean. Cool on wire racks for 10 minutes. Remove cupcakes from tin and cool thoroughly on wire racks before frosting.

** If baking in 2 cake pans or 9 x 13 baking dish, bake at 350 degrees for about 30 minutes**

Cream Cheese Frosting:

1 stick of softened butter
1 8 oz. package of softened cream cheese
4 cups powdered sugar

Mix all together in your mixer with wire whisk until whipped. For cupcakes, I spooned my frosting into a large ziplock bag and snipped the end with scissors. I piped my frosting on my cupcakes this way and turned out quite cute!

Adapted from the Better Homes Cookbook