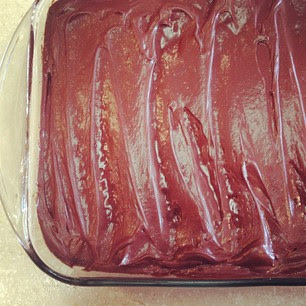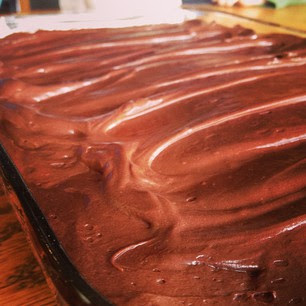 I've been making this chocolate cake for 20 years. It is, wait for it, the Hershey recipe. Yes, it is on the back of the Hershey cocoa box and I am not ashamed to say that it is my go-to recipe for chocolate cake and cupcakes. It is insanely chocolately, incredibly moist, and over-the-top easy!

Sundays are when I make my traditional spaghetti and meatballs, fluffy, soft, and flavorful breadsticks, and a dessert. Chocolate cake bars hit the spot with a cup of hot coffee this time around. What a delicious day!

Enjoy this recipe my friends

PRINT ME
Ingredients:

2 cups sugar
1 3/4 cup all purpose flour
3/4 cup Hershey cocoa
1 1/2 tsp. baking powder
1 1/2 tsp. baking soda
1 tsp. salt
2 eggs
1 cup milk
1/2 cup vegetable oil
2 tsp. vanilla extract
1 cup boiling water

Directions:

Heat oven to 350 degrees. Grease and flour two 9-inch round baking pans or a 9×12 baking dish.

Combine dry ingredients in a large bowl. Add eggs, milk, oil and vanilla: beat on medium speed 2 minutes. Stir in boiling water (batter will be thin.) Pour into pans.

Bake 30-35 minutes or until a toothpick inserted into the center comes clean. Cool 10 minutes; remove from pans to wire racks. Cool completely.

Chocolate Frosting Recipe:

1 stick butter
2/3 cup Hershey's Cocoa
3 cups powdered sugar
1/3 cup milk
1 tsp. vanilla extract

Melt butter. Stir in cocoa. Alternately add powdered sugar and milk, beating on med. speed to spreading consistency. Add more milk, if needed. Stir in vanilla. About 2 cups frosting.