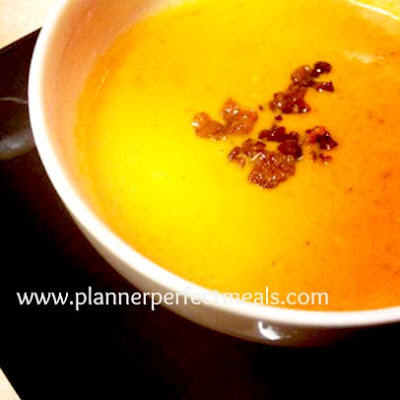 I am in love with this soup! It is so simple and accompanies a grilled cheese extremely well. You'll trick your babies with all of it's veggies because the soup is pureed in your blender, made even creamier with cream stirred in and topped with crispy bacon!

When you make your grilled cheese, let me just encourage you to go all the way. On your baking day, bake some of my easy and delicious, white bread and use this for your grilled cheese. Cut your homemade bread thick, use a variety of cheeses such as: havarti, white sharp cheddar and swiss. Grill as normal pressing hard to ensure all cheese is melted and the bread is nicely browned and crispy. Cut on a diagonal and you've got yourself a gourmet lunch or dinner!

My kiddos loved this soup and dunked their homemade grilled cheese in it in place of their usual ketchup.

Enjoy this recipe I've adapted from the Food Network.

PRINT RECIPE
Ingredients:

4 tbsp. butter
5 strips of bacon, cut into one-inch pieces
1 carrot, chopped
1 celery stalk, chopped
1 small onion, chopped
4 cloves garlic, chopped
5 cups chicken stock
5 tbsp. flour
1 28 oz. can whole peeled tomatoes with juices roughly chopped
2 tbsp. each dried thyme and parsley
1 cup heavy cream
salt and pepper to taste

Directions:

Heat your butter ion medium heat n your big soup pot and cook your bacon until all fat is rendered and nice and crispy; a couple minutes. Take out with a slotted spoon onto a paper-towel, lined plate and set aside.

Cook your carrot, celery, onion and garlic until veggies are fragrant and soft. About 8 minutes.

Stir in the flour and cook for about 3 minutes. Add your chicken stock and tomatoes and whisk until it reaches a boil, turn down adding your herbs and allowing to simmer for about 30 minutes.

Turn off heat and let cool a bit before ladling into your blender. Working in batches puree your tomato mixture and using a dish towel on top of the lid of your blender if you're still working with a warm soup. Pour back into your soup pot, heat up to a simmer again and add your cream and salt and pepper to taste. Ladle into bowls or cups, garnish with chopped bacon and serve alone or with cheesy grilled cheeses for dunking.

Bon Appetite!