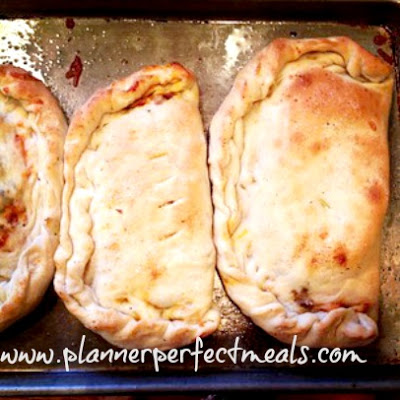 Friday nights are our pizza nights and I had yet to make calzones. This last friday was a blast making these pockets of gooey cheese, my zesty pizza sauce, and loaded with hamburger, black olive, mushrooms and bell pepper. They are incredible! The best part about these cheesy pockets are their "freeze until later" capabilities. Talk about kid-friendly! Stuff these bad boys with your kids' favorite pizza toppings, bake and freeze for a quick lunch or easy dinner! And don't forget to make some for your husband to take to work. Delish!!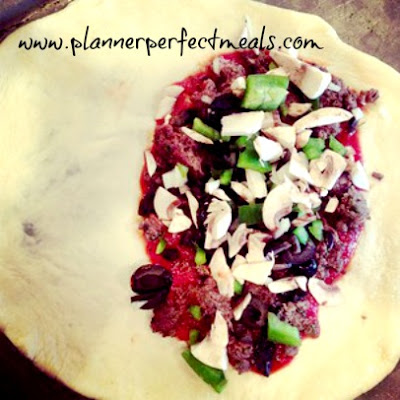 right before the gooey cheese was topped. Leave a space around your calzone for sealing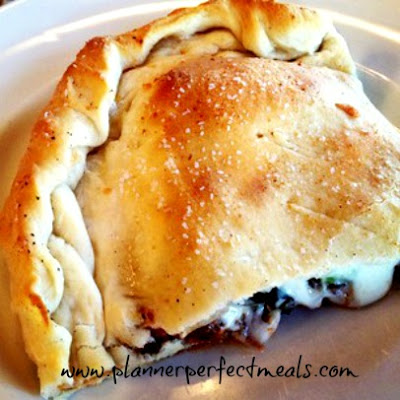 supreme calzone: herbed hamburger, mushroom, black olive, onion, bell pepper

Enjoy making these calzones…

Preheat your oven to 425 degrees F. and grease your baking sheet(s) with a light dusting of cornmeal or cooking spray.

To make these calzones all you need to do is use my pizza crust recipe, here, and use my pizza sauce, here.

To prepare, take a small piece of your pizza dough and flour your counter and rolling pin. Roll out into a small or large, circle, depends on how big you want them. On one half of the circle spread a little of your sauce leaving about a 1/2″ space around your circle to for sealing. Add your toppings, and your mozzarella and then brushing a little water with a pastry brush or your finger around the perimeter for sealing your calzone shut. Fold over, pinching to close. You can use a fork to seal by pressing the tines into the dough or just rolling the dough upward toward the top and pressing to seal like mine above.

Take a fork to puncture the top of your calzones a couple times or using a knife make a couple slits for steam to escape while baking.

Place your calzones on your baking sheets and brush the tops with olive oil using a pasty brush and sprinkle with a little kosher salt and granulated garlic.

Bake in the oven for about 10-12 minutes until golden brown.

You can enjoy now and freeze extras, once cooled, with plastic wrap and a a ziplock freezer bag, dated and labeled.

To eat later after frozen: thaw and pop in the microwave or warm up in the oven for a few minutes in preheated, 425 degree oven.

Enjoy!!