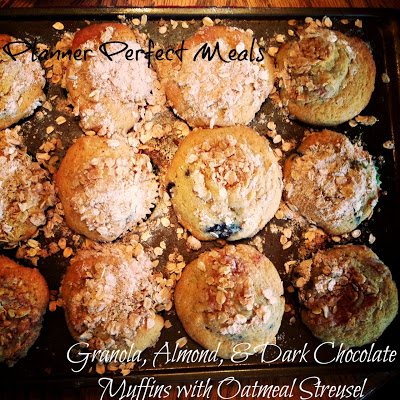 This is my favorite basic muffin recipe that can be use to fill and top with anything you choose. This will be your new go-to recipe! These recipes provided are 3 different variations: blueberry, granola, and cinnamon sugar.

You can double your recipe, bake and freeze for the ultimate in Breakfast Baking Day organization. Simply take out the night before for a quick simple breakfast that can be served with alone, fruit, eggs, bacon or sausage.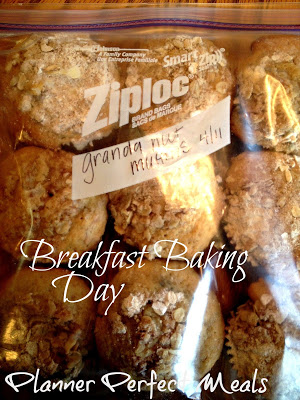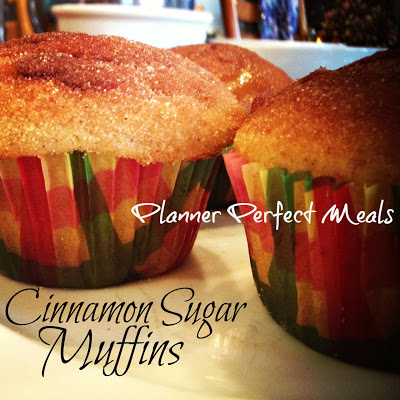 Adapted from Joy of Cooking

PRINT ME
Basic Muffin Recipe

Ingredients:
Whisk together in a large bowl:
2 cups all-purpose flour
1 tbsp. baking powder
1/2 tsp. salt
1/4 tsp. ground nutmeg
Whisk together in another bowl:
2 large eggs
1 cup milk or cream
2/3 cup suga ror packed light brown sugar
4-8 tbsp. warm melted butter or vegetable oil
1 tsp. vanilla

Directions:
Preheat your oven to 400 degrees. Grease a standard 12-muffin pan or line with paper cups.

Add to the flour mixture and mix together with a few light strokes just until the dry ingredients are moistened. Do not overmix the batter should not be smooth. Divide the batter among the muffin cups. Bake until a toothpick inserted in a 1- 2 of the muffins comes out clean, 12-15 minutes or longer for variations with fruit. Let cool for 2-3 minutes before removing from the pan.

Cinnamon Sugar Muffins:
Dip the warm muffins into a small bowl of melted butter and dip into another small bowl of 2 tbsp. 1 tbsp. granulated sugar.

Blueberry:
Add 1 cup of fresh blueberries to your batter and lightly stir with a wooden spoon until incorporated. If using frozen blueberries rinse under cool water and shake dry before adding so the blueberries don't create a blue batter.

Granola:
Add your favorite granola to your batter and top with streusel if you'd like before baking. I used my favorite granola cereal that had granola, almond and dark chocolate pieces. So yummy!

Streusel topping:
6 tablespoons

regular oats

5 tablespoons

all-purpose flour (about 1 1/2 ounces)

2 tablespoons

brown sugar

2 tablespoons

butter, softened

1/4 teaspoon

ground cinnamon

In a bowl add all the ingredients and cut the butter into the dry ingredients with a pastry cutter until crumbly.
Sprinkle on muffins before popping into the oven.