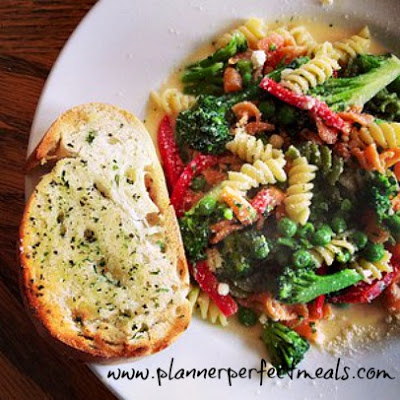 This is the perfect food to get your kids to eat their veggies. Tricolor pasta, red bell pepper, broccoli and peas all wrapped in a garlic and butter parmasen sauce. The garlic toasts crisp up in seconds under the broiler and perfect for sopping up the buttery cheesy-ness.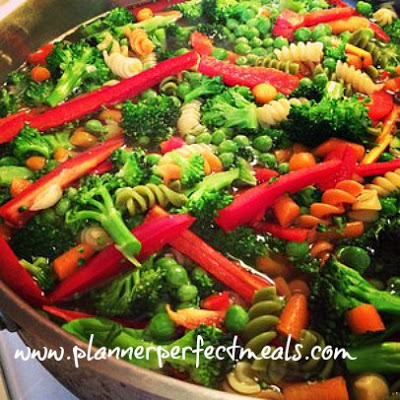 all the veggies in the pot boiling for the last 3 minutes with the tricolor fusili


This dish is heaven! Perfect for lunch. Perfect for dinner. Perfect anytime.

Enjoy!

Adapted from the Food Network

PRINT ME
Total time to make: 25 minutes| Serves: 4

Ingredients:
Kosher salt
12 ounces tricolor fusilli
4 cups broccoli florets
3 carrots, thinly sliced
1 red bell pepper, cut into thin strips
1 cup frozen peas
4 tbsp. cold unsalted butter
2 cloves garlic, minced
1 cup chicken broth
Freshly ground pepper
1/2 cup grated parmesan, plus more for topping
2 tbsp. chopped fresh parsley or basil

Directions:
Bring a large pot of salted water to a boil. Add the pasta and cook as the label directs, adding the broccoli, carrots, bell pepper and peas during the last 3 minutes of cooking. Reserve 1 cup cooking water, then drain the pasta and vegetables and return to the pot.

Meanwhile, make the sauce: Heat 2 tbsp. butter in a large skillet over medium-high heat. Add the garlic and cook, stirring, until it begins to soften, about 1 minute. Add the broth, 1/2 tsp. salt, and pepper to taste: bring to simmer adn cook until slightly reduced, about 3 minutes. Whisk in the remaining 2 tbsp. butter until melted and the sauce is thickened, about 1 more minute.

Pour the sauce over the pasta and vegetables and add the cheese, and parsley. Cook over low heat, stirring, until the cheese melts, aout 1 minute ,adding enough of the reserved pasta water to loosen the sauce. Season with salt and pepper and top with more cheese.

Garlic Toasts:
Heat your oven to broil and placing the oven rack up to the top.
Italian Artisan loaf cut into 1/2 thick slices. Place your slices on a baking sheet, spread with butter, sprinkle with granulated garlic, dried basil and parsley and a dash of kosher salt and cracked black pepper.

Place under the broiler until lightly toasted. Keep an eye on it; it should only take a couple minutes.