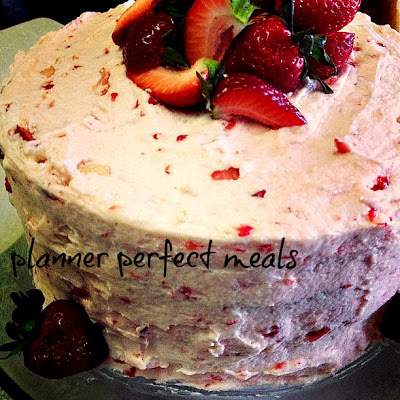 Perfect for Mother's Day
I'm kicking off my Mother's Day recipes with this killer cake: strawberry! It is a delicious white moist cake with a strawberry buttercream. The taste is just delicious, and the frosting? Amazing. The pink hue is from blended strawberries which makes the cake beautiful and represents what kind of cake it is. These would also make really good cupcakes; just a thought…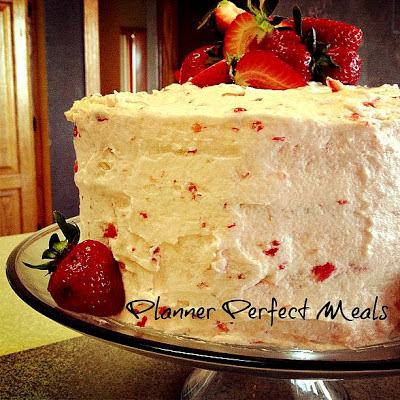 So, I'm sure you're wondering why I would showcase a homemade cake that you, as a mother, would have to make in order to take part in eating.
I truly believe that in order to have the best Mother's Day in the world, with all of your favorites, you might need to help. And, if you are planned by preparing ahead of time, by making and freezing, and all you have to do on Mother's day is frost the cake, this whole cake to honor you will be easy and so worth it!

You can make this for your own mother. Either way, plan, make and freeze the layers, and frost on your special day. Simple and delicious.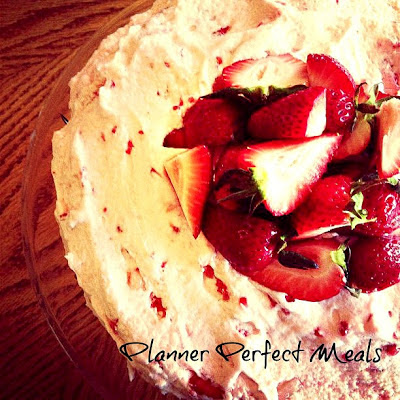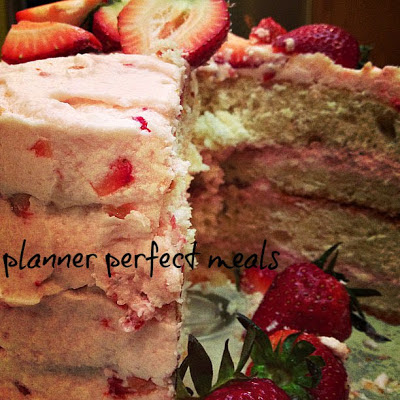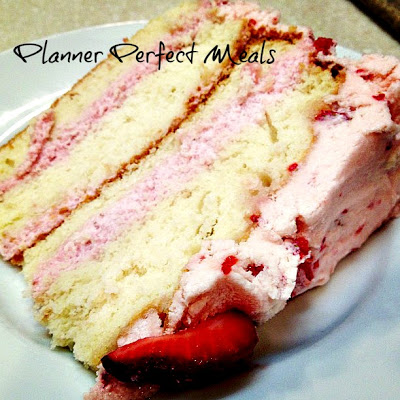 Adapted from Southern Living's Special Garden Magazine issue
Ingredients:
1 1/4 cups butter, softened
2 1/4 cups granulated sugar
7 egg whites, at room temp.
Strawberry Frosting:
5 cups powdered sugar, sifted
3/4 cup finely chopped fresh strawberries
Garnishes:
Halved fresh strawberries, edible flowers
Directions:
Prepare cake layers: Preheat oven to 350 degrees. Beat 1 1/4 cups softened butter and 2 1/4 cups granulated sugar at medium speed with a heavy-duty electric stand mixer until fluffy. Gradually add egg whites, on -third at a time, beating well after each addition.
Sift together cake flour and baking powder; gradually add to butter mixture alternately with 1 cup water, beginning and ending with flour mixture. Stir in vanilla ans almond extracts. Pour batter into 2 greased and floured 8-inch round cake pans.
Bake at 350 degrees for 22-25 minutes or until a wooden pick inserted in center comes out clean. Cool in pans on wire racks 10 minutes; remove from pans to wire racks, and cool completely about 30 minutes.
Using a serrated knife, cut each cooled cake layer evenly in half to make 4 even layers.
Prepare strawberry frosting:
Beat 3/4 cup softened butter at medium speed 20 seconds or until fluffy. Gradually add powdered sugar and 3/4 cup finely chopped strawberries, beating at low speed until creamy. Spread frosting between layers and on top and sides of cake.
Garnish and serve and enjoy!

Happy Mother's day to all you mamas out there!! (My number 8 baby is due to arrive in July; Happy Mother's day to me too!)