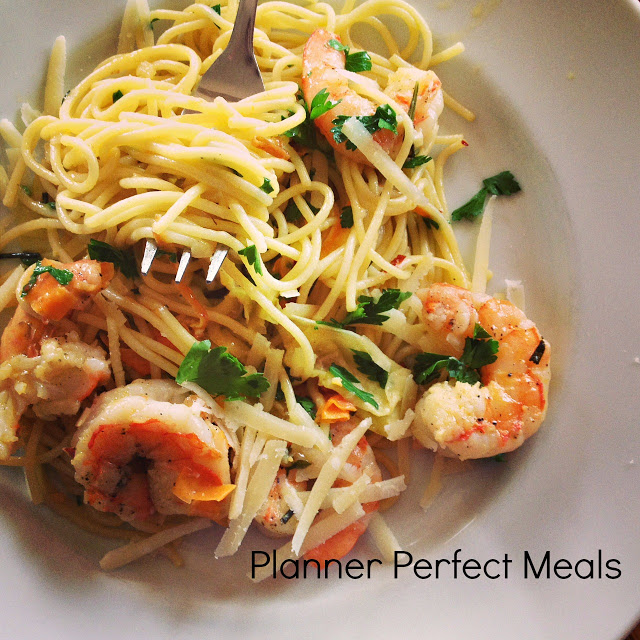 This is one of those dishes that just make your mouth sing!
Delicious spaghetti and tender shrimp all dancing in a wine herb sauce that will knock your socks off. Topped off with freshly grated Parmagiano Reggiano this dish is not only fantastic but easy!
PPM Tip: for children that do not like the sound of eating shrimp, I reserve some of the spaghetti to make a butter and cream sauce for them. In a separate pot add your cooked spaghetti, I reserve about half for the shrimp dish and the rest for the kids. I add about a half a stick of butter, and 1/4 cup cream, about 1 tsp. of granulated garlic, salt and pepper to taste and dried parsley for color. You never have to compromise you and your husband's dinner. There is always a way to convert what you're making, kid friendly.
For a more detailed look, check out my buttered noodle recipe
Ingredients
½ lb large shrimp, peeled and deveined
1 package uncooked spaghetti
3 tbsp. extra-virgin olive oil, plus more for drizzling
1 medium zucchini, thinly sliced lengthwise
1 medium carrot, thinly sliced lengthwise
3 cloves garlic, finely chopped
1½ tsp. fresh rosemary, chopped
2 tbsp. grated Parmesan or Pecorino Romano cheese, plus more for serving (optional)
1 tsp crushed red pepper flakes
¼ cup white wine
¼ cup low sodium chicken stock
sea salt and black pepper, to taste
fresh parsley, finely chopped
Instructions
First cook the spaghetti by bringing a large saucepan of water to a boil, adding a couple of large pinches of sea salt and then the spaghetti; it should take about 8-10 minutes to cook. Stir every so often so the strands of pasta don't stick together. When the pasta is just cooked (al dente), drain it in a colander, drizzle with a little olive oil and then mix to lightly coat the pasta and prevent the strands from sticking together. Set it aside.
Preheat olive oil in a skillet, add shrimp, season with a little salt and pepper. Cook until the shrimp is not longer raw inside, about 2 minutes on each side. Remove shrimp from the skillet.
To the same skillet, add garlic, red pepper flakes and rosemary. Stir together and cook 1 min.
Add white wine and chicken broth. Bring to a simmer and allow to reduce by ¼.
Add zucchini and carrots to the broth mixture. Continue cooking another 2 minutes. Turn of the heat and stir in the cheese.
Return pasta and shrimp to the skillet. Gently combine all the ingredients.
To serve sprinkle with fresh parsley, more cheese and red pepper flakes.