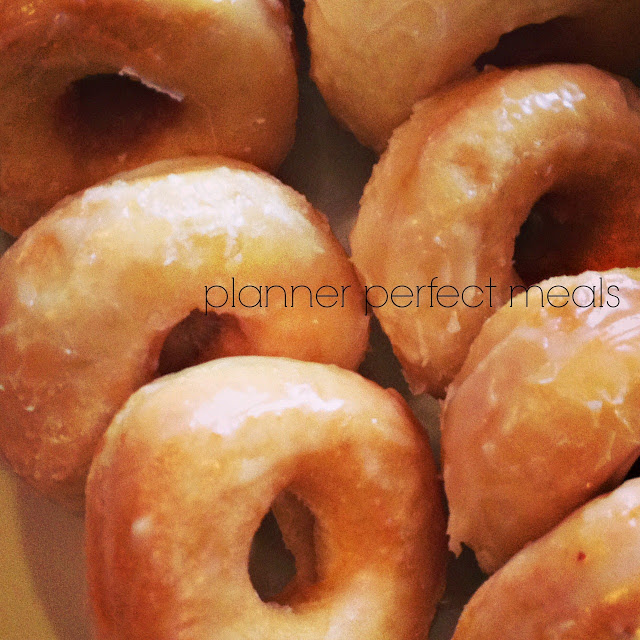 These doughnuts are crazy good. The cake doughnuts I make on the quick are very good, too, but when you want a springy light and airy, bakery-like doughnut, only the yeast doughnut will do. The time it takes to make these are so worth it, especially if you consider most of the work is just waiting for your dough to rise. These will not disappoint and can be apart of your baking day to be frozen to fry at a later time. Can you say perfect?

These doughnuts are hands-down a family favorite. Make them. Eat them. Now!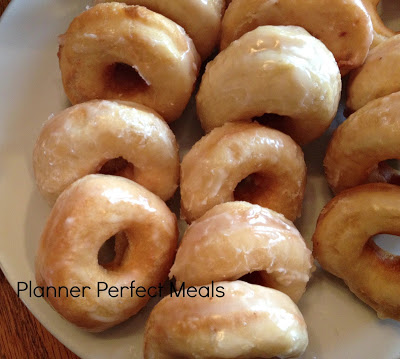 glazed donuts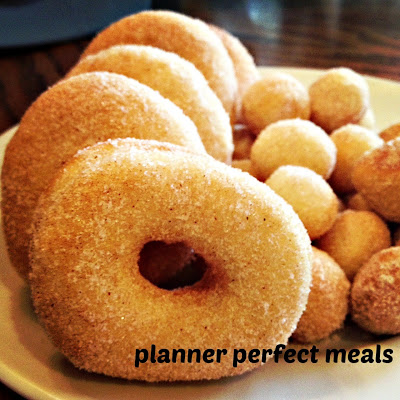 cinnamon and sugar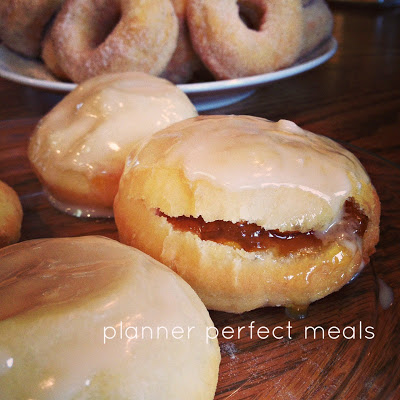 Peach jam stuffed donuts
When making these just shape donuts without whole in middle and fry as usual. Let cool, slice half way creating a pocket and fill with jam and glaze.
For easy glazing, pull donut ring through wooden spoon handle, let rest over a bowl of glaze and simply spoon over donuts and let dry

Adapted from Hopefulthings
PRINT ME
Yeast Raised Doughnuts
1 1/4 cups warm water
1 1/4 tbsp. dry yeast
1 tsp. sugar

1/3 cup sugar
1/4 cup shortening
1 egg, beaten
1/2 tsp. salt
1 tsp. vanilla extract
1/4 tsp. nutmeg
3 1/4 cups all purpose flour
shortening for frying the doughnuts in

Glaze:
2 cups powdered sugar
1/2 tbsp. cornstarch
1/4 cup water
1/2 tsp. vanilla

Add 1 cup of the warm water to your mixer with the dough hook attachment, reserving 1/4 cup to start the yeast in. Add the yeast and 1 tsp. of sugar to the reserved water. Stir to mix well and set aside. Add the rest of the ingredients to your mixer and when the yeast has proofed, add it as well. Mix on low until all incorporated and let mix for 5 minutes to knead dough.When the dough is ready, turn out onto a floured surface and punch down. Let rest for 10 minutes.

Roll out to 1/2″ thickness and cut out doughnuts. Place on a very lightly greased and floured baking pan. Lightly cover with plastic wrap and let rise for about 30 minutes or until double in size. Mix together the glaze ingredients and set aside. Very carefully remove the doughnuts from the baking pan and drop into a pot or deep fryer full of shortening which has been brought to a temperature of 350 to 360 degrees. Fry until lightly brown then flip the doughnut over and fry on the other side. This takes about 1 minute on each side. Remove the doughnuts from the oil and place on a paper towel to drain. Dip in glaze while still warm.

Makes about 3 dozen, and this can vary depending on the size of your doughnut cutter, whether or not your doughnuts have holes in them and the thickness you cut the doughnuts.
Baking Day Tip: If making this on your baking day to freeze. Make dough, shape, let rest on floured or greased baking sheet and let rise until puffed and almost doubled. Freeze until solid and keep frozen donut rings in a freezer bag. When ready to fry, lay out and let thaw and come to room temperature on greased cookie sheet. Fry as directed above.

Note: I would not substitute anything else for the shortening in this recipe. You are not likely to get the same results.