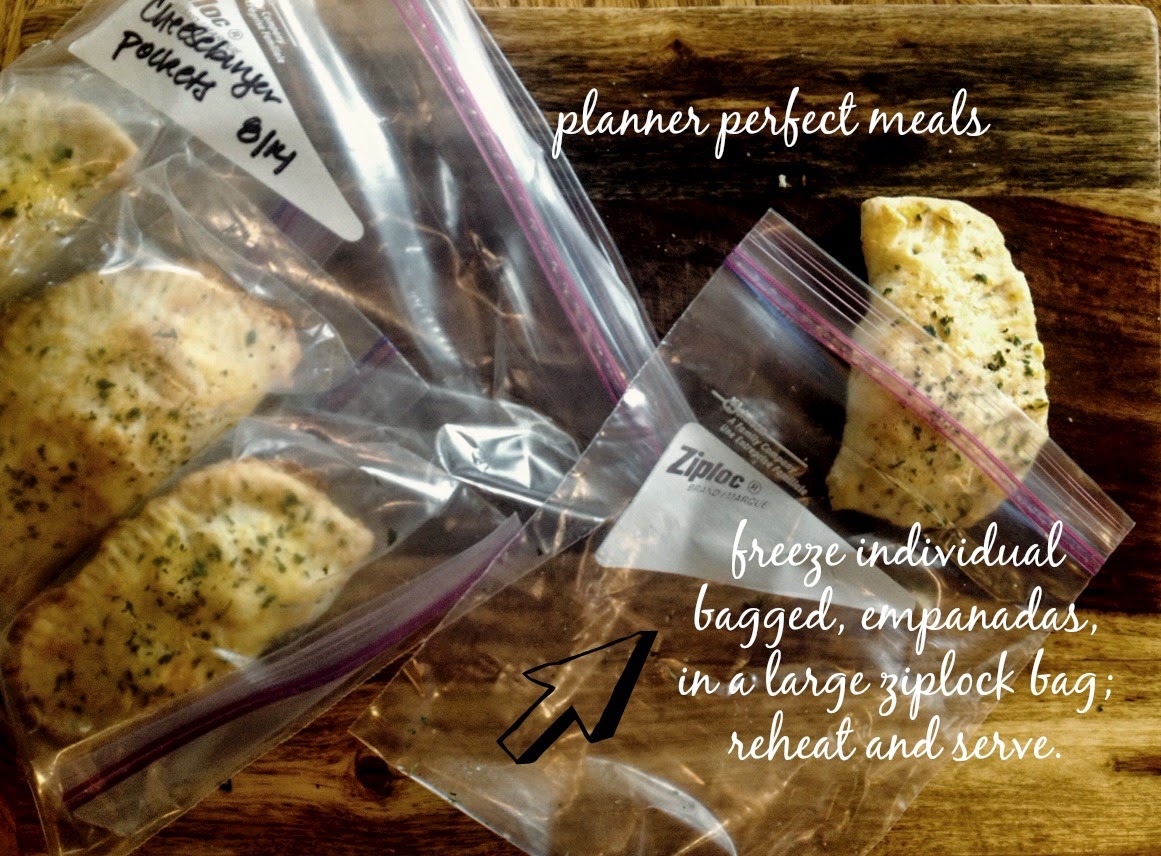 Feeding Hungry Boys

I am totally digging this series! Aren't you? Well, maybe you're not quite there yet, but you will be when you see your sons grab one of your frozen, homemade baked goods from the freezer, when hunger hits around the clock.

These delicious baked goods are my empanadas. You can fill them with anything your children like. This is not the time to fill with something you'd like to see them eat, like a spinach feta, empanada *ahem* no, fill it with familiar, homey flavors, such as cheeseburger and pizza! All your hard work will pay off and will make for quick options all week long.

As a recap: creating a baking day in your week to devote to some freezer meals, is a time savor in the long run, will save you money feeding these starving boys, and keep them fed well. It's well worth the effort because feeding your kids is serious business. You don't want to feed them cheap fillers. And besides, when you see that your grocery bill is kept down, which it will, BELIEVE ME, you will use this method of feeding your hungry kids, over and over again!

Getting your freezer stocked seems overwhelming at first, but it isn't. Don't try to tackle it all in one baking day. Use a full month to get the freezer where you want it, creating a different baking and cooking plan each week and using opportunities when you are making a meal for your family for dinner, that you'd like to freeze, too, and making an abundance. Soon you'll have that stocked dream freezer to feed your hungry boys and your hard work will be so satisfying. You'll know you've fed your family well, controlled ingredients, saved money and your kids will crown you, "Best Mom". Well, sometimes, us Moms don't get the accolades we deserve most of the time, it's a thankless job on the daily, but you'll still feel the satisfaction just them eating what you've made, on the quick. In the long-run, it makes your life easier.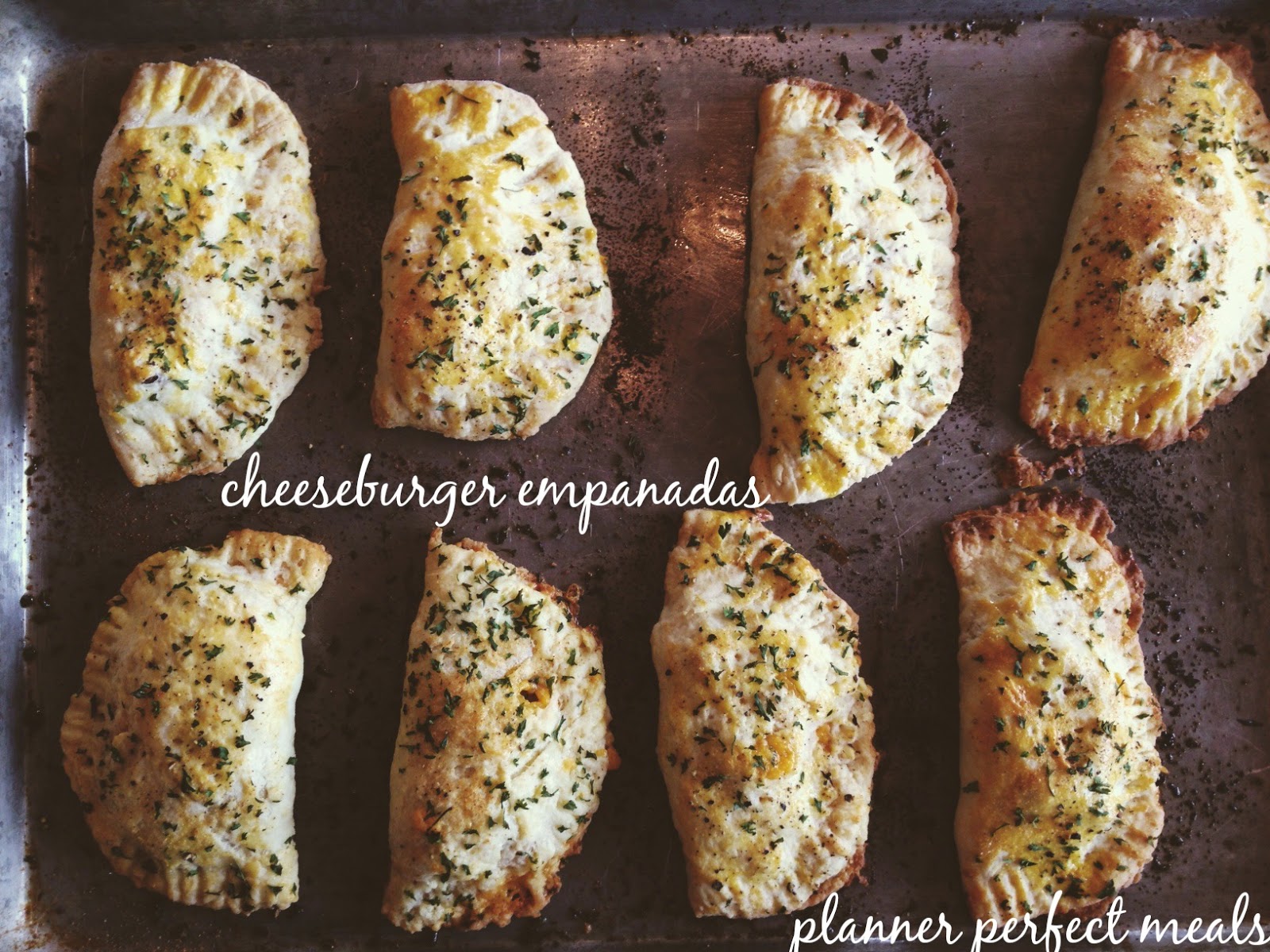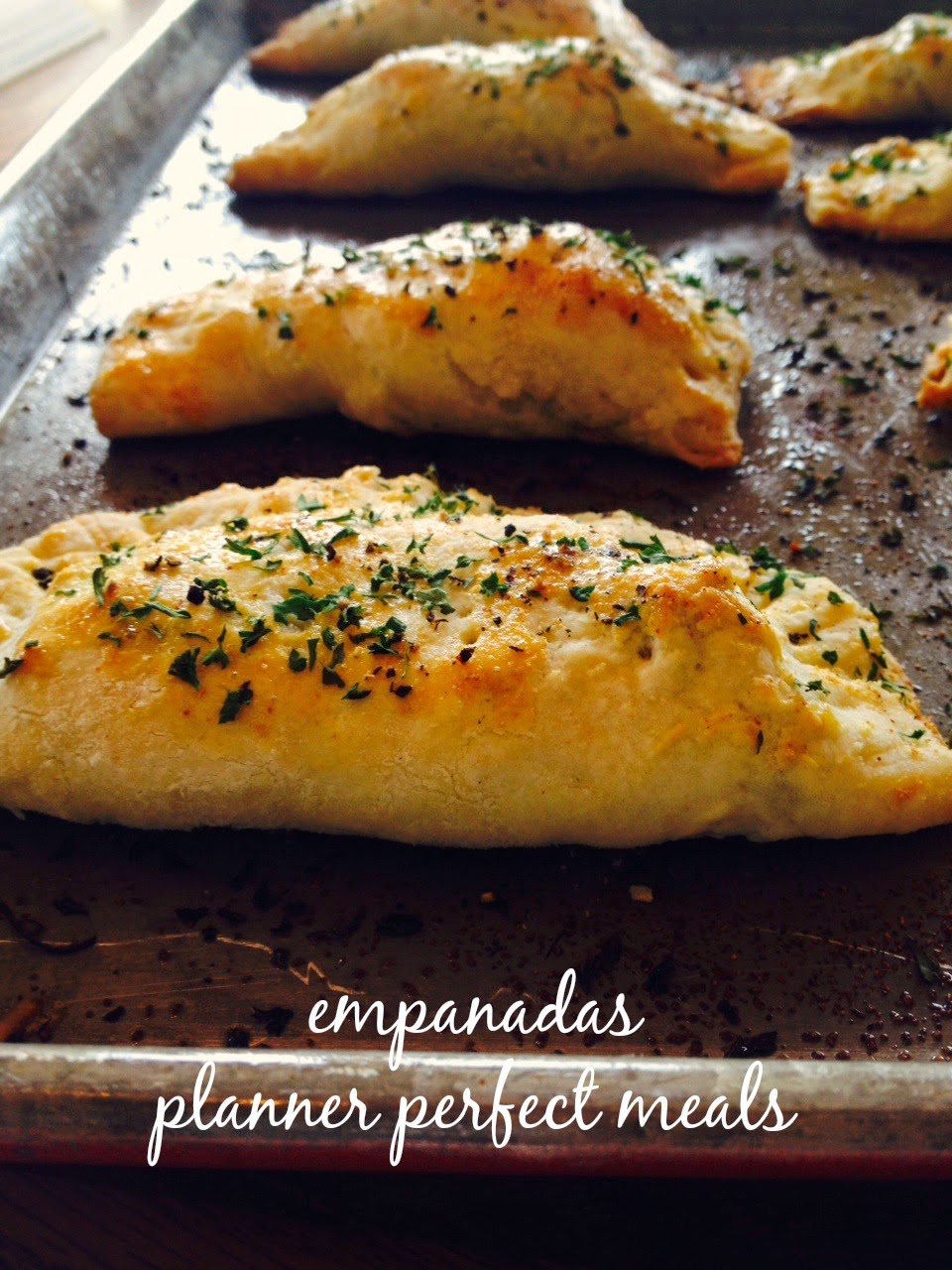 These are flakey, delicious, and out of control. Using my go-to pie crust recipe and some easy fillings, make this a reliable freezer snack/meal.

I did bake these off rather than freezing them unbaked because I wanted it to be fast. Hungry boys are too hungry and won't even grab for them. If the agony of the preheat of the oven wasn't enough, the thought of waiting 10-15 minutes to bake these suckers will surely kill them off. I have five boys, and if they can't get to food fast, it's not worth eating, they just shrivel up and die.

What makes these fast is that they are frozen, fully baked, in individual bags. To reheat, all they have to do is pop into a 500 degree, preheated, oven (smokin, hot) to get it toasty, fast, in about 5-8 minutes, tops.

They can warm in a microwave, but they won't experience that crispy exterior of the crust. By fully baking and then freezing individually, oven baking will be a breeze. I've nailed it! A fast meal, homemade, easy to eat, and still keeping its integrity.

You will find my flakey, fail-proof, pie crust recipe, HERE.

For the filling, you can choose to fill anyway you'd like! Let's not forget this can be a sweet treat, too. My apple pie filling is on my pie crust recipe's page or shoot, Nutella and mini marshmallows sound good, too. Let your guide be your mama instinct on your boys' taste.

I made cheeseburger and pizza. (Taco would be an awesome flavor profile, too!)

Cheeseburger filling:
1 lb. of ground hamburger
1/2 diced onion
1 tsp. granulated garlic
salt and pepper to taste
water

Grated cheddar cheese

Brown the hamburger meat. While it's browning, dice your onion and put in with the hamburger, stirring and browning and adding your spices. I add water so it creates kind of like a gravy. I do this with my taco meat, too. Let mixture cool while you roll out the dough.

Grate your cheese and have a pile on hand to easily fill your dough and preheat your oven to 400 degrees.

Empanada tops:
one egg with a splash of water
granulated garlic
dried parsley
salt and pepper

For your egg wash, stir an egg in a small bowl with a splash of water and whisk with a fork. Set aside.
Directions:
Roll out your pie crust, after it has chilled for about 30 minutes, on a floured surface; rolling thin. Cut into small circles using a large mouth mason jar or large round cookie cutter. I rolled mine out a bit more to make more of an oblong shape.

Place a small scoop of your cooled hamburger mixture on one half of the cut-out and a heap of shredded cheese. Fold over press together with the tines of a fork.

Here is what sets the regular ol' empanada to zesty, Jenny, empanadas: season the tops! Brush with the egg wash and I seasoned mine with a little granulated garlic, parsley flakes, and a pinch of salt and cracked black pepper. Prick with the tines of a fork to release steam while baking.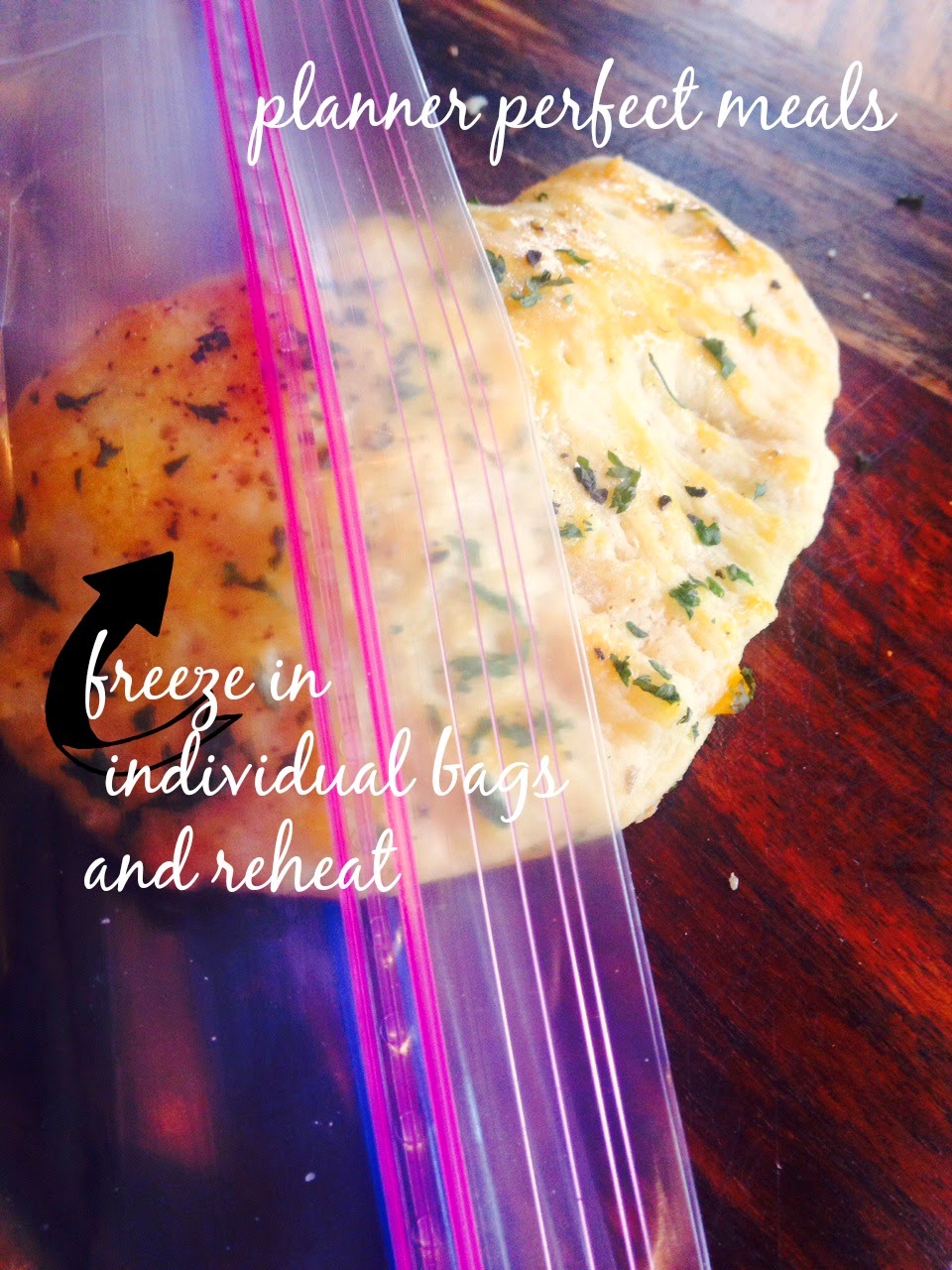 Bake off in a 400 degree oven for about 10-15 minutes or until golden brown. First, try one for yourself. Dip in some ketchup, if you please, and let your taste buds do the talking! Good, em' I right? Let cool completely, wrap in individual, freezer quart-sized bags and then fill a large freezer, labeled zip bag for easy organization. Reuse these quart-sized, bags, as you will use quite a bit.

Pizza fillings are just a little pizza sauce, your same browned hamburger meat and all the pizza toppings are your kids' favorite. Same drill with the prepping, baking and freezing. Don't forget to label and you're set!

Feeding hungry boys can be a reality, girls! We can do it. More to come this week!! Enjoy and comment on how your empanadas turned out…I'd love to hear!