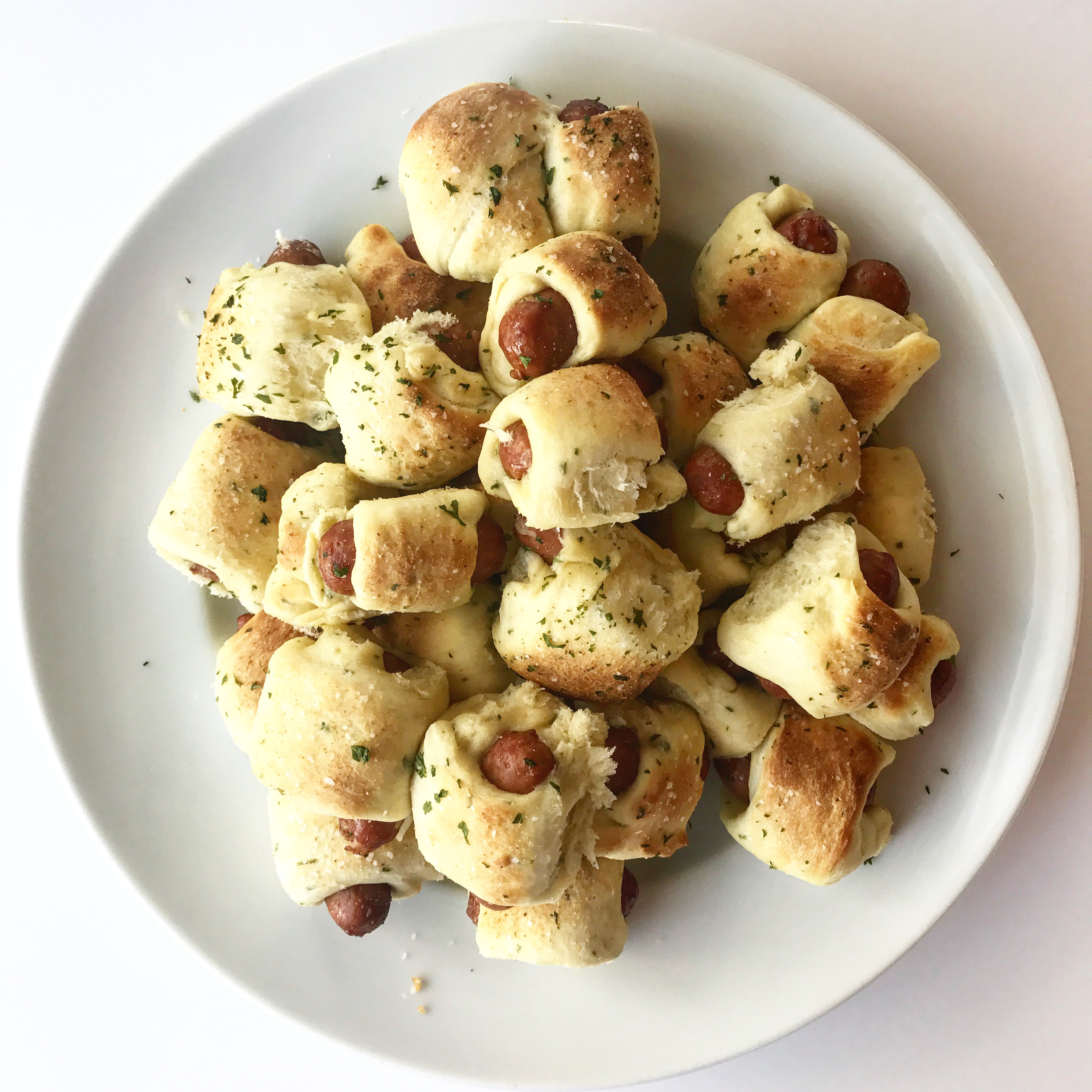 If I were to pick a fun food my kids absolutely adore it's pigs in a blanket. Bursting with flavor from those cute cocktail weenies and surrounded by billowy soft homemade Parker house roll dough. OH MA GA!!!! Kids go nuts over these and they are perfect at room temperature so you can make a lot and pack them in lunches, take them to the zoo and of course picnics and potlucks! You'll be the hit of the party or your family so get ready! You know what takes these over the edge? Aside from the homemade dough, but the seasoning on the outside of the dough before baking off–total game changer!
BE SURE TO TRY OUR SPOOKY HALLOWEEN VERSION FOR YOUR KIDS!!! IT'S SURE TO PLEASE!! 
Making sure when you wrap your dough to leave a little at the top for their heads and add a little mustard for the eyes and you've got it!!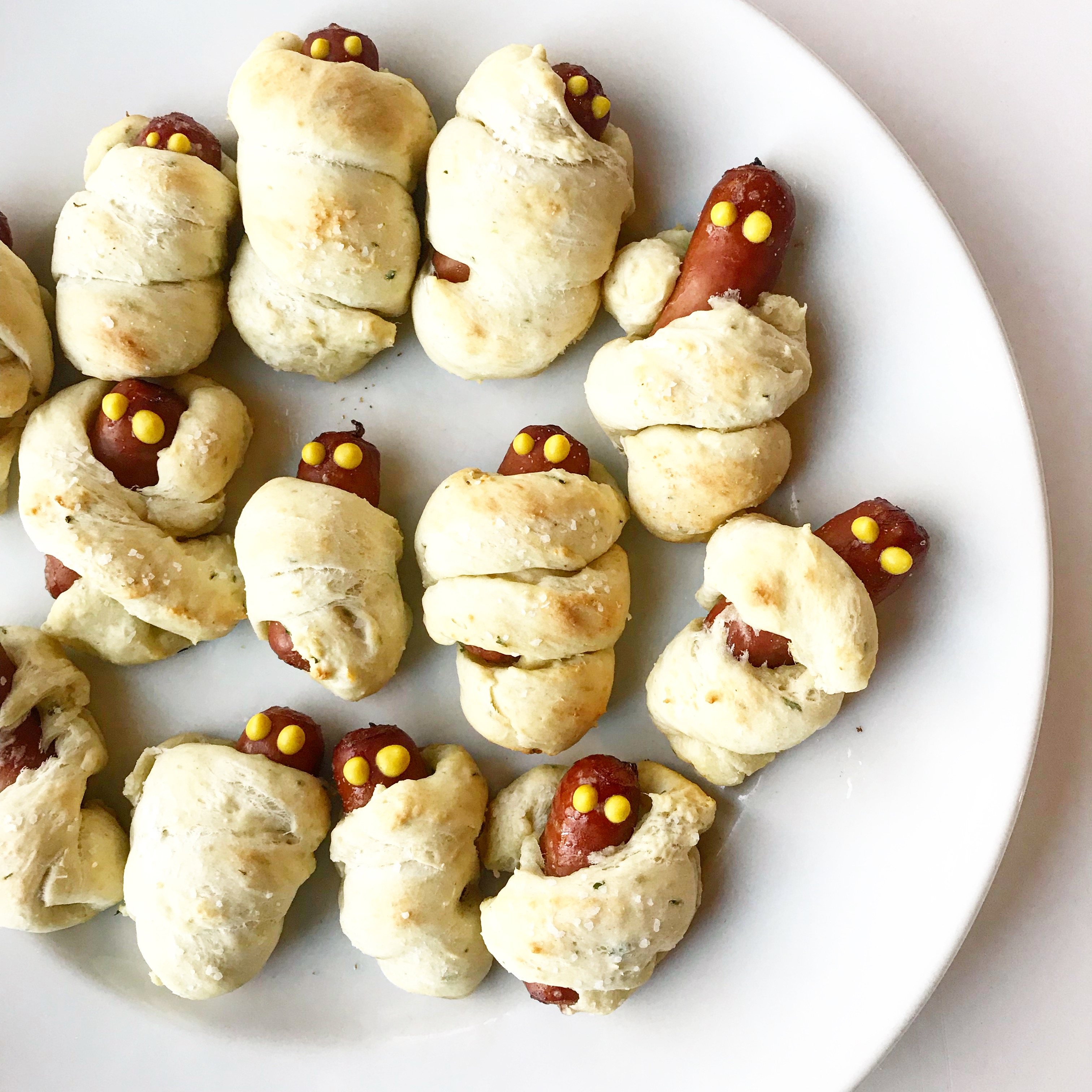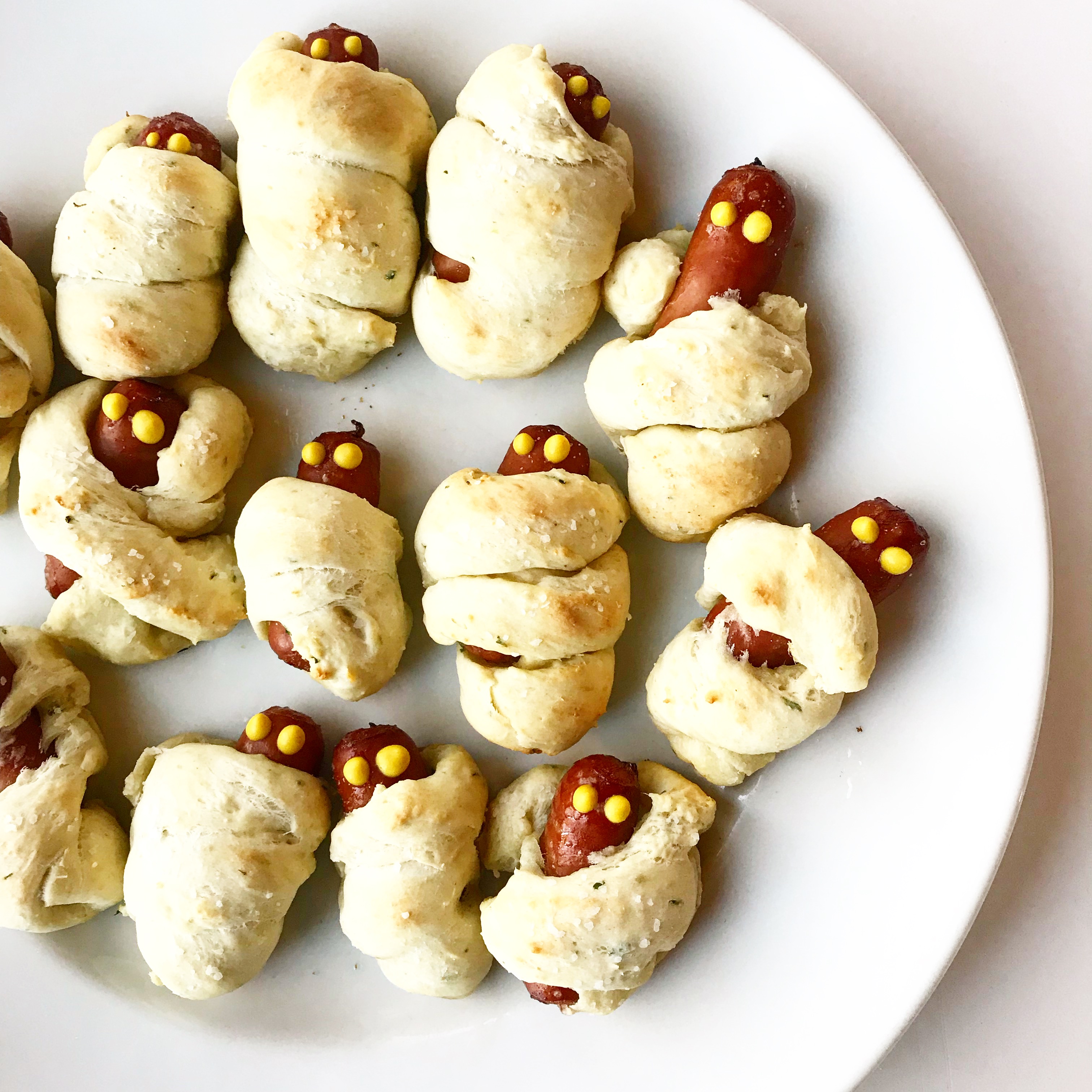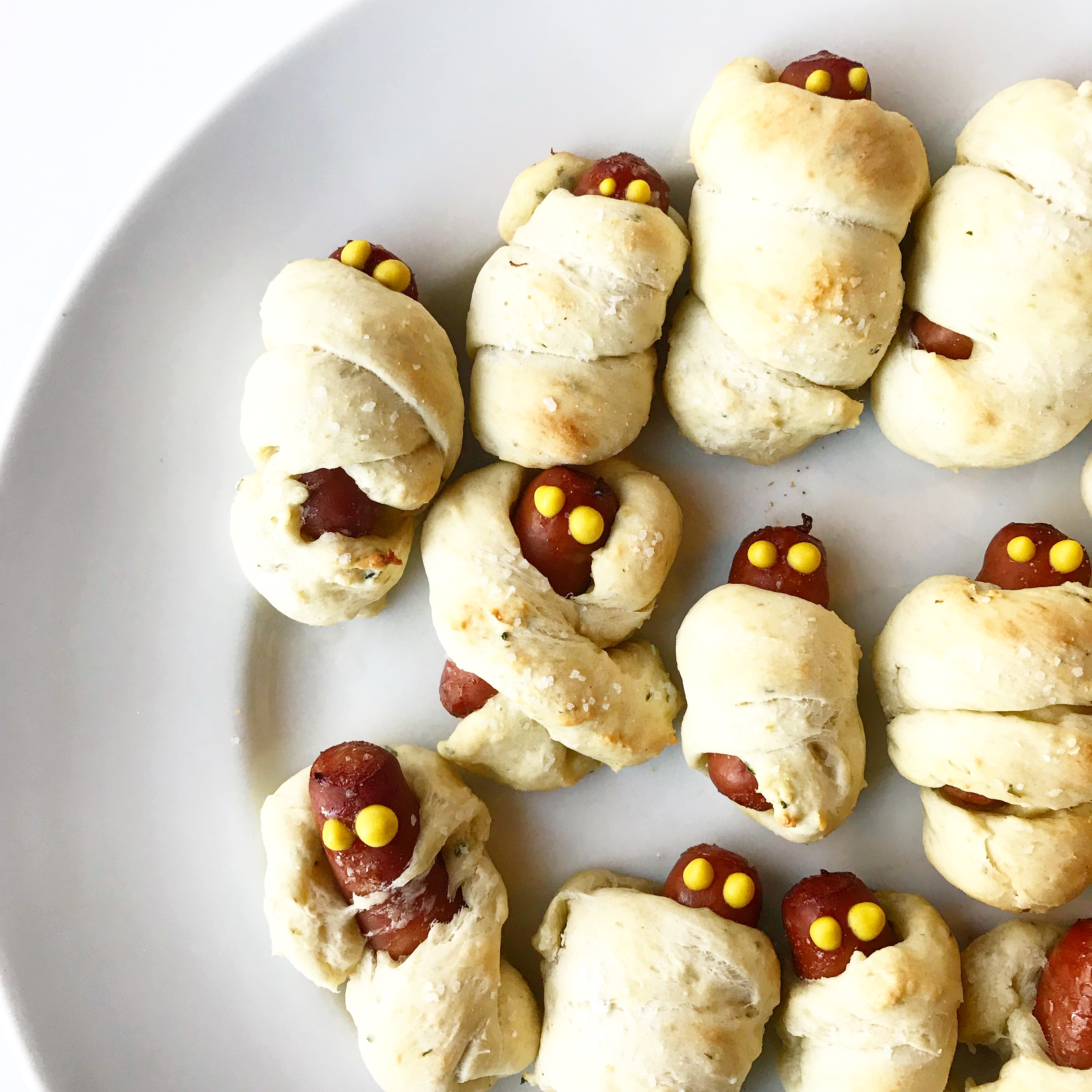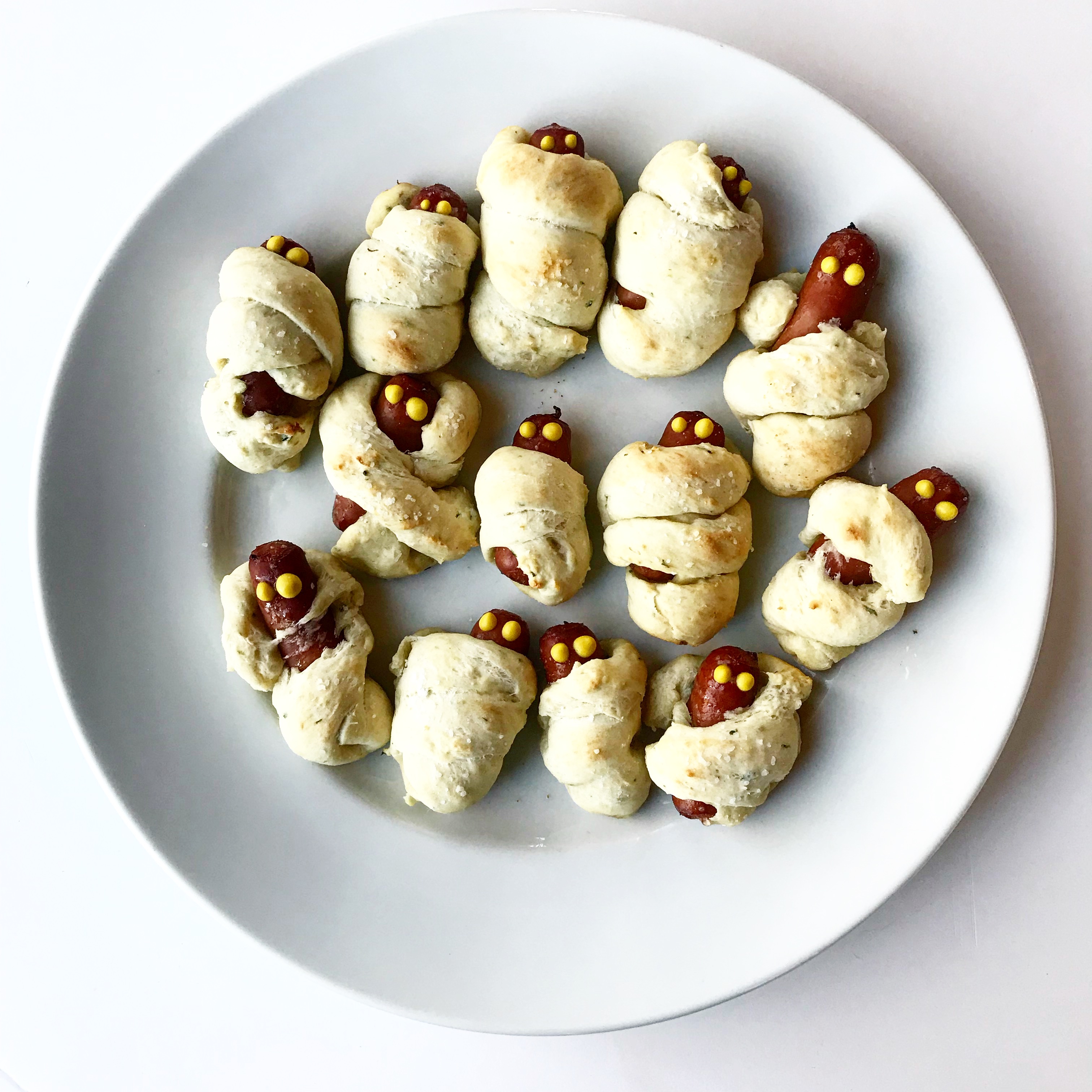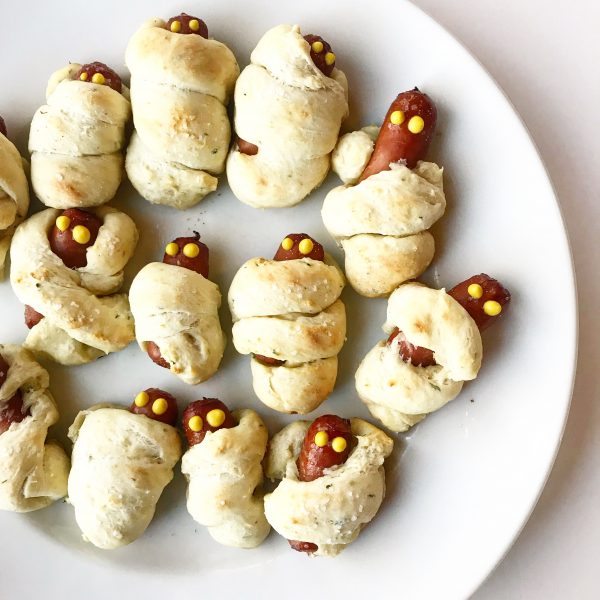 | | |
| --- | --- |
| | |
Combine 2 cups of the flour and the yeast.

Heat and stir milk, sugar, butter and salt just 'till warm (120 to 130 degrees) and butter almost melts. *Warning! If your milk is too hot then you will kill the yeast. Make sure that your temp. is as noted or warm to the touch.*

Add to flour mixture along with eggs. Beat with an electric mixer on low speed for 30 seconds. Beat on high for 3 minutes.

Add little by little the remaining flour until you get a nice, firm dough, yet still a little sticky. Turn dough onto a floured surface and knead in as much remaining flour as you can.

Shape in a smooth ball and place in a greased bowl until doubled (about 1 hour).

Roll out your dough to about 1/4 inch thick Using a pizza cutter make vertical cuts about 1/2 inch in width. Cut horizontally now across so that each strip to wrap your pigs are about 4 inches.

Take each piece and wrap around each pig and pinch dough together where it meets. Line on a greased baking sheet--they can be touching it's ok.

Melt 1/4 stick of butter an using a pastry brush, brush the pigs all wrapped up and sprinkle with a little dried parsley, kosher salt, and granulated garlic. Perfecto!!!

Bake in a 375 degree oven for 12-15 minutes until lightly browned and delicious.

Your family is going to flip out!!