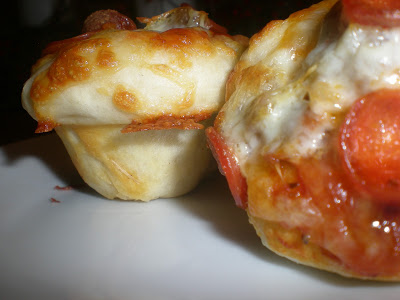 These pizza bites are fun, perfect for parties, or anytime. This is made in my mini muffin tins using my favorite pizza dough and sauce. Using mini pepperoni and spicy italian sausage adds a kick…you'll love these!
Old World Style Pizza Sauce:
Ingredients:
6 ounces tomato paste
1 tbsp. olive oil
1 can tomato sauce (29 ounces)
1/2 cup finely chopped sweet onion
4 cloves garlic, minced
2 tsp. oregano
1 tsp. rosemary
1-3 tsp. dried red pepper flakes–to taste
2 cups water
salt to taste
Directions:
In a large saucepan over medium heat, stir the tomato paste and olive oil together, then stir in the tomato sauce.
Add all of the remaining ingredients, bring to a boil, then lower heat to a simmer. Cook, uncovered for 3 hours, stirring frequently. Add water if sauce gets too thick, but it should reduce down to a thick paste that has enough body to cover a pizza.
Makes 3 cups, enough for 2-3 pizzas
1 1/2 cups warm water
1 pkg. active dry yeast
1 tsp. sugar
4 cups all-purpose flour
1/2 cup vegetable oil
1 tsp. salt

Preparation:

In a large mixer bowl, combine the water, yeast, and sugar and stir to combine. Let sit until the mixture is foamy, about 5 minutes.
Add 2 cups of the flour, 1/2 cup oil, and the salt, mixing by hand until it is all incorporated and the mixture is smooth. Continue adding the flour, along with herbs and garlic (I use basil, oregano, thyme, and garlic powder–just small palm-fulls of each.) 1/4 cup at a time, working the dough after each addition, until all the flour is incorporated but the dough is srill slightly sticky.
Turn the dough out onto a lightly floured surface and knead until smooth but still slightly tacky., 3-5 minutes. Oil a large mixing bowl with the remaining 2 tsp. oil.
Place the dough in the bowl and turn to oil all sides. Cover the bowl with a towel and set in a warm, draft-free place until nearly doubled in size, 1 to 1 1/2 hours.
Divide into 2 equal portions and it's ready to use!

Notes:

I've added herbs and garlic to this crust which gives it lots of flavor. I've also tried this with white whole wheat flour if this interests some…it works wonderfully.
I like to throw this on my pizza stone fully topped and with a pastry brush and little olive oil, brush the dough with the olive oil–it helps create that crispy crust.
Bake at 425 degrees if using a pan…if a stone–I like it hot at 500 degrees
Added toppings:
Mini pepperoni bites
Ground Italian sausage, sweet or hot, depends on you taste. I used spicy in my recipe. Brown the Italian sausage before assembling.
Hand shredded mozzarella. About 3 cups.
Assembly:
Spray a mini muffin tin with a non-stick spray. Tear off a small piece of dough, roll in the palm of your hand and stretch to line the muffin tin up to the lip, creating the shape of the muffin. Add about a tsp. of pizza sauce, Italian sausage, a small dollop of cheese and the tiny pepperoni.
Bake in a 350 degree F oven for about 12 minutes until golden brown. Pop out of the tins, place on platter and watch them disappear!