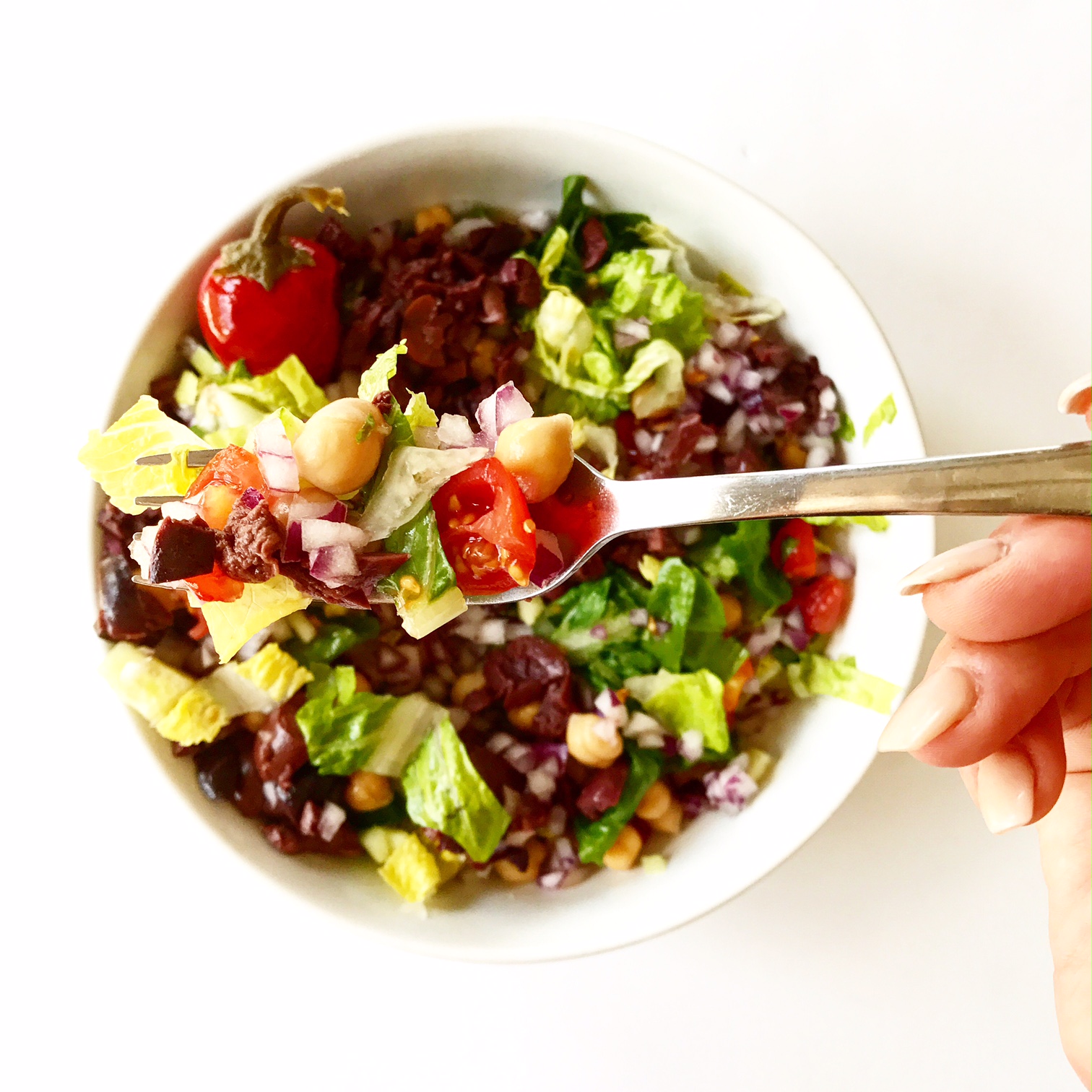 It's official! I've gone vegan! All the goodness I cannot wait to share. I've lost weight (and dropping it by the day) feel amazing and honestly have never felt so good. Though I am a mom of eight-I still just make my vegan meals and then whip up all their usual favorites that they grew up on and it works. I am not going to be turning my family into vegans anytime soon but plan on incorporating what I know about plant-based eating into their diets. I'll show how I do this soon.
Salads are my mainstay. It is what I love to fuel my body on the most. Topped with all sorts of veggies, beans, nuts and seeds, I can't help but feel amazing.
This salad I made is my chopped salad and it is my obsession!! When I first started the diet, my toppings were huge-though delicious, I just wasn't interested in eating all those amazing veggies and other nutritional needs. Too overwhelming perhaps? Anywho, when I chopped everything and tossed it together, I fell head over heals! Too much? I should calm down, I know. But when make something this good and you know that you are feeding your body well and eating to lose weight–you just can't help but be excited!!
This beauty of this salad is that you can literally put all the veggies and greens in your salad you'd like along with a smaller amount of beans, nuts, seeds, potato and whole grains-just chop it all up! Here's what I chose in my salad and will continue to put new and different variations up as I make them-so stay tuned!


| | |
| --- | --- |
| | |
[recipe]This chopped salad will be your new go-to. Filled with nutritious veggies and more and with the toppings being chopped so small it ensures you get a nutritious and satisfying bite every time. Change out veggies each time and you are fueling your body with all sorts of goodness!!
Chop all your ingredients- this is key to your salad- everything gets chopped, your greens too, and layer them into your serving bowl. I use a large bowl for myself and just load it! For my olive oil, I have a mister that I use for it so I can monitor how much oil I'm using. Drizzle with your balsamic and sprinkle with salt and cracked pepper to taste and it's your time to eat and enjoy!!!